It's hard to catch a break in the blogosphere.
In March, an enterprising manager at a Home Depot store in Las Cruces, N.M., posted a hand-typed sign at the store's exit entreating frustrated customers to reconsider. The sign read: "If you are leaving because we were out of stock, you couldn't locate a product, an associate wasn't available, the check-out line was too long or for any other reason, please go to the service desk, pick up the phone and dial Ext. 299 for the Manager-on-duty, and we will improve your experience."
A customer took a picture of the sign with a cellphone and sent it to The Consumerist, a blog site owned by the publisher of Consumer Reports. The Consumerist, which has as its tagline "Shoppers Bite Back," posted the photo of the sign under the headline, "Home Depot Begs You Not To Leave Their Store Because Of Their Crappy Service."
As of late May, that particular entry has 26,205 views and 77 posts in its discussion thread. Though many of the respondents are sympathetic to the sign writer's obvious sincerity, more typical are comments like this, from someone identified as PamelaKenndey: "Hey Home Depot. Do you really think that a pissed off customer is going to bother begging you for you to do your job?"
Deep into the list of responses is one from someone using the moniker HomeDepotInfo, which reads in part: "I work at The Home Depot and wanted to join this discussion... What I particularly like about this sign is that it is clearly an effort designed by someone within the aisles of that store – not a packaged corporate message from offices far away from this community." The writer characterizes the effort as an example of the "unique ways our stores are getting back to our customer-focused culture," and signs off: Sarah, Home Depot Communications, Atlanta.
Sarah is Sarah Molinari, corporate communications manager. "I wanted to post because I wanted to make sure they knew why the manager would put up that sign," she says. It resulted from a recent corporate push on customer satisfaction.
Molinari hasn't won over the hearts and minds of the Consumerist's editors, who in recent weeks have run posts including "Everyone Hates Home Depot" and "Worst Company In America: Home Depot Vs. Citibank." And the Consumerist doesn't have an online monopoly on Home Depot potshots, since there's not one but two Web sites with the domain name "homedepotsucks" – a .com and a .org version.
Companies have learned, after a few years' experience, to largely ignore the YourCompanySucks sites for the crackpots they are. They've learned when to engage on sites with an agenda like the Consumerist's. Yet there's an entirely different – and raging – stream of raw conversations going on about companies in the social Web, and companies haven't figured out which ones they need to worry about. It could be a string of customer complaints on Twitter Inc. , a clutch of employees blowing off steam on Facebook (Nasdaq: FB) on a Friday afternoon, or someone posting company video on YouTube Inc.
The potential exists for that kind of chatter to erupt into a full-fledged online reputation crisis. Even more likely, the stream of conversation will bubble along unnoticed for a long time – never provoking a crisis, but all the while revealing problems companies should know about so that executives can decide whether to act.
So what, if anything, should companies do to protect themselves in online social media?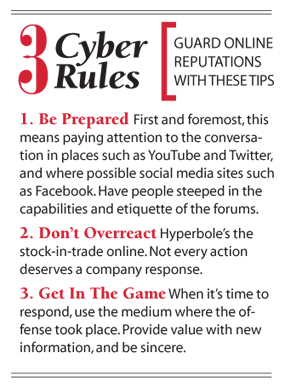 Savvy companies are using online social media for customer interaction, providing a platform for critics to vent and for loyal fans to help generate ideas for new products and ways to improve service.
– John Soat
Next Page: Threat Level: Real