The Internet is plagued by spam, viruses, denial-of-service attacks, and other problems that can cripple vital Web servers worldwide. It also has to cope with the growing demand for URLs to accommodate all kinds of new devices. All of this has many people saying todayís all-purpose Internet is about to run out of gas.
This isnít a new message, but with governments and companies alike considering possibilities for the Internetís future, the conversation is getting a little more charged.
TIMELINE



1996
Internet2 launches; 34 universities commit to project

1998
2.5-Gbit/s Abilene Network is announced

1999
Abilene Network launches

2000
Health Sciences Initiative supports clinical networking apps

2001
K20 project extends Internet2 technologies to all educational levels

2002
OpenSAML federated identity framework released

2004
Abilene Network is upgraded to 10 Gbit/s

2005
InCommon Federation trust network launches

2006
Internet2 and other organizations work to protect Net neutrality

2007
100-Gbit/s backbone replaces Abilene Network

2008
Internet2 showcases supercollider research
One of the earliest initiatives to overhaul the Internet originated a dozen years ago, well before the age of malware. The Internet2 project was formed in 1996 when 34 university researchers met in a Chicago hotel to discuss ways to develop and implement a new Internet, which they called Internet2. The project has grown into a nonprofit consortium formally administered by the University Corporation for Advanced Internet Development. That group provides a nationwide, high-performance, 100-Gbit/s network backbone to nearly 300 member organizations and more than 50,000 research and educational institutions, including colleges, high schools, museums, and libraries.
Beyond providing turbocharged network capacity, Internet2 and its members are developing, deploying, and using networking technologies that tap protocols like IPv6 to access an astronomical amount of new URL address space, as well as a host of middleware and security capabilities, such as federated authentication, and advanced applications like high-definition videoconferencing. Software such as Internet2 Detective lets users test their connections, gauge the bandwidth they need, and perform other functions (see diagram, below).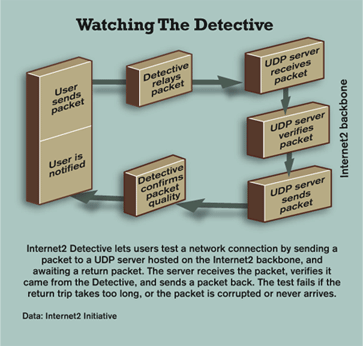 These technologies will provide a lot more than just a faster Web or speedier email Ė theyíll let people use networking in ways that arenít possible via the existing global commercial Internet. Among the possibilities: digital libraries, virtual laboratories, distance and independent learning, and health applications.
ó Roger Smith, InformationWeek
Next Page: Accelerated Research