Everyone's looking for the best way to engage customers, whether those customers are individuals or other businesses. Many keep focusing on social media, and today when you mention social media, most turn to Facebook (Nasdaq: FB). No matter what you think of the service, it's hard to argue with a platform of 500 million users.
But social media are not, by definition, engaging. Most just slap Facebook buttons alongside their content and make a Facebook page. But one online retail facilitator is going a different route. E-commerce site Etsy, which specializes in handmade products, has found a way to take data Facebook makes available and put it to work recommending gifts for your friends.
The feature's still in testing, so how it works may change. As it stands at the time of this writing, the Gift Ideas tool is available to 1 percent of Etsy users for testing.
Users with access to the tool see the Gift Ideas option only if they search the site, which seems an odd choice. After authorizing Gift Ideas to connect with Facebook, you select a Facebook friend to shop for, though not all friends are available for selection (my guess is that those who are grayed out and not selectable opted out of Facebook personalization).
Once you've selected a friend and click OK, you land on the Gift Ideas results page (see screen shot below). As you might imagine, the results are hit and miss. The tool's still heavily in testing, of course, but also many Facebook "Likes" are vague to the point of producing some amusing suggestions.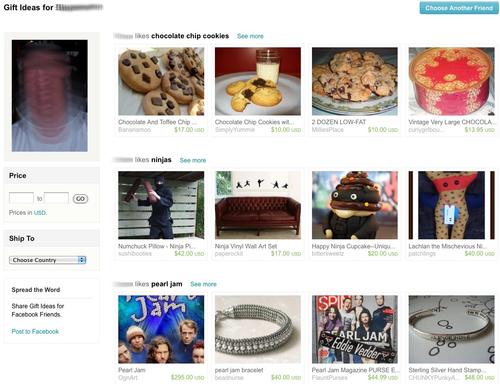 For example, one of my friend's Likes is the show House. The gifts recommended include birdhouses, art featuring houses, and if I dig enough, a Christmas ornament with Dr. House's face on it. Another of his Likes is the show Community, which offers similar random-ish results. Since Facebook doesn't let you classify a Like with metadata (perhaps tagging it as a TV show), there isn't much Etsy can do about this issue.
But many of the other sections are more on target. As I showed my friend some of the suggestions, I actually found a winner of a gift: Gluten-free chocolate chip cookies make for a happy Celiac sufferer. Of course there were many others that didn't garner the same enthusiasm. The nunchuck pillows under his ninjas Like are cute, if misspelled, and could be appropriate for some. On the other hand, the crocheted cheeseburger play food/coasters sent him running for the hills.
While this feature was greeted with the usual hysterics from some community members (the Etsy forums are full of people who don't handle change well), ultimately I see it as an amusing way to spark gift ideas if you're at a loss on what to get someone. And sometimes, as with the cookies, you stumble over something perfect.
The Gift Ideas app is also a good example of how to use data integration in a win-win fashion.
Some see the tool as creepy and an invasion of privacy, at which point I suggest they opt out of data sharing, as I mentioned earlier. But in this case the app's purpose for requesting the data is clear and useful, even if that use is just for entertainment value. In other words, Etsy's Gift Ideas app is a step toward personalization done right.
What are you doing to add meaningful, useful personalization to your online properties? How are you making it easy for your users and/or customers to see what you offer for their particular needs?
Facebook integration may not be the answer. Social media, in fact, may have nothing to do with it. But the companies who get it are the ones who'll be making the sales. Don't be left behind.
— Dee-Ann LeBlanc (www.Dee-AnnLeBlanc.com) has been a computing professional for the last 20 years.