At this year's Google Conference, Google Glass was omnipresent. But this gadget does not solely target individuals; it can offer many viable solutions for enterprises, as well.
A clerk could hand Google Glass to walk-in customers, who could instantaneously access product details and make comparative analysis. Customer service may provide instructions via Glass. Need to scan boxes of inventory quickly? Do it with a look through Glass. Need to give hotel guests directions to a new restaurant? Give them a way to view directions without having to gaze away from the road. In fact, Google Glass may well be a better option for enterprises seeking loyalty and business agility in the face of stiff competition.
Benjamin Robbins wrote in a Guardian blog last week:
Natural user interfaces that involve vision and voice are in our future. Announcements such as Glass provide a glimpse of the capabilities to come. Their impact upon our daily lives will be as profound as the introduction of the iPhone was five years ago. They will break through new boundaries in mobile computing.
The accessibility and functionality of wearables like Google Glass and Windows- or Android-based smartwatches will inevitably find acceptance within the enterprise. To prepare for the massive onslaught of data, enterprises will need to overhaul their IT departments. They'll need an unambiguous policy for data generated within and outside the enterprise. IT will need to prioritize and clearly define data as relevant or irrelevant, so they'll know what data to retain.
"IT has a tradition of collecting data first and determining their use second, resulting in unwieldy data hoards that produce little value," Patrick Gray wrote in a Tech Republic post. "Additionally, each of these devices represents a potential node on your network that may require monitoring and management."
BI Intelligence has projected that Google Glass will be an $11 billion market by 2018. With prices lowering to about $600 or less within two years, will Google Glass be viable for the enterprise? I think the answer lies within the organization itself. Google Glass makes it possible for employees to interact, collaborate, and engage their clients and coworkers across the globe while they are on the move. Hassle-free access to ready information makes it a strategic tool for enterprises.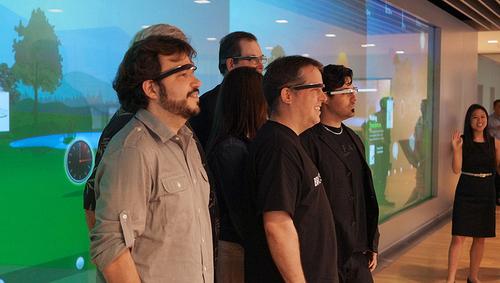 Google Glass has already attracted developers' interest. The SaaS provider Fiberlink has unveiled a Google Glass version of MaaS360, an application for monitoring and managing mobile devices in corporate environments. Customers will be able to view lists of managed devices and lock or wipe phones and Glass devices remotely. Evernote blogged recently that it is developing a product targeted for Google Glass. The software will allow users to display saved text messages on Glass.
Google filed a patent for a facial recognition app that would help users recognize other people. This app could assist customer service representatives, sales reps, or people working in public relations get a detailed client background instantly.
Glass Collective, an investment fund aimed at promoting Google Glass and its applications through project funding, may fuel additional applications for enterprise use. The goal is to jumpstart the developer ecosystem and encourage mainstream adoption of Glass. Could Google Glass adoption be driven by employees who use these devices at home and want to bring them to work? Perhaps -- especially among mobile workers. Google Glass would be quite useful for employees who spend much of their time on the move or in hands-on environments.
In 2010, Timo Elliot, an SAP employee, built a proof of concept for an augmented reality app based on SAP Business Objects. Elliot envisioned retail managers using future versions of the app to pull up information about items in a store, as well as factory foremen using it to check machinery maintenance records. Though the app was initially designed for iPhones and iPads, a Google Glass version is not a distant possibility.
As employees begin bringing Glass to work, IT pros and line-of-business workers will figure out hands-free ways to use these devices to make life simpler and their days more productive.
Related posts:
— Talha Khalid is a teacher and business manager based in Pakistan.