As you recruit, do you want people who will dynamically change your business? Do you seek business agility to survive cutthroat competition and beat your foes? Then look no further than teen Internet entrepreneurs. These whiz kids are changing the way we socialize, communicate, work, and play.
Take Britain's Nick D'Aloisio, for example. The wunderkid is raking in millions for startup Summly, which Yahoo reportedly bought for $30 million earlier this year. Investors include Ashton Kutcher, Yoko Ono, and Rupert Murdoch. D'Aloisio will soon join Yahoo as its youngest employee, a move many cite as an attempt by CEO Marissa Mayer to appeal to Generation Y and promote a fresh image of Yahoo as a platform for young Internet entrepreneurs to work.
In an interview with Forbes, D'Aloisio said:
You're going to have hundreds of millions of people at your fingertips. As a startup you're touching hundreds of thousands. At Yahoo it's millions. It's not the money that's made me do this deal, but the opportunity to build a big platform in technology and that's what, as an entrepreneur, is so exciting. As a founder of a company you want to still have the leadership vision and I want to bring my technology here and Yahoo is hiring people. It's a good time to go to this company, when they're trying to grow and rejuvenate.
Increasingly, talented younger people view enterprises as stodgy workplaces, preferring to start their own businesses, work at startups or smaller firms, or partner with like-minded colleagues. According to the Gen Y & Facebook Research Campaign conducted by Millenial branding, 7 percent of those aged 18 to 29 work for Fortune 500 companies because these enterprises are not ready to bank on their creativity. Yet to remain relevant, companies should tap into the energy and thinking of these youthful minds.
Wrote Dan Schawbel, managing partner of Millennial Branding, in a blog:
It's important to understand that merely hiring young entrepreneurs and then forcing them to surrender their ideas is pointless. Many corporations are embracing the idea of empowering their workers to become 'intrepreneurs' -- acting like a small business under the umbrella of a bigger business.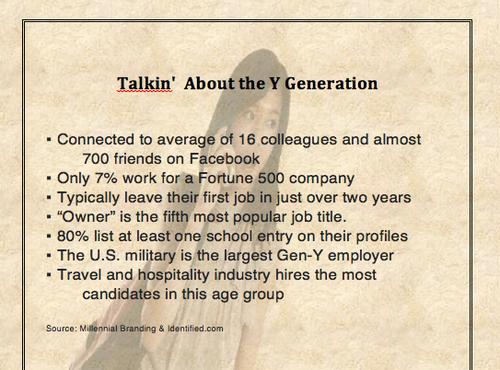 Some younger professionals already making their mark include Jamal Edward, the 20-year-old founder of SBTV, an online broadcaster of impromptu videos of street rap, who began his business at 16. SBTV, which makes money from advertising, has racked up 50,000 subscribers and 39 million video views. From filming foxes to capturing the likes of Nicki Minaj, Ellie Goulding, Bruno Mars, and Justin Bieber, the startup landed Edward a deal with Sony RCA to create his own imprint within the label.

For his part, Naveen Selvadurai worked at Lucent, Sony, Nokia, and Sun Microsystems before launching mobile venture Foursquare.

There is no dearth of young, creative Internet entrepreneurs out there. The real challenge for well-established companies recruiting young blood is to provide these professionals with an enabling environment that nurtures their innate talents while advancing your company's profitability and competitiveness.

In industry after industry, as Internet companies introduce disruptive and enhancing technologies, established enterprises try to stay relevant by adopting "intrepreneurship." It's up to today's titans of industry to figure out how best to attract -- and retain -- these talented professionals for a career within their organizations.

Related posts:

— Talha Khalid is a teacher and business manager based in Pakistan.