Counterfeit drugs are back in the headlines with reports that up to 19 US clinics bought a fake medicine masquerading as the cancer drug Avastin. But this has been an ongoing problem. The counterfeit drug market was estimated at $200 billion in 2010 -- about 10 percent of all global pharmaceutical trade. Nearly one-fourth of that figure came from online sales.
Compared to other items, medicines are relatively easy to duplicate illegally. Sometimes even experienced pharmacists cannot tell the difference. In developing nations, distributors, wholesalers, and retailers are separate businesses often separated by borders. Given the little information exchange between them, it is easy to introduce fake medicines.
Donor grants, government spending, health infrastructure, doctor's time, and patients' money all go to waste due to fake medicine sold and consumed against a subscription obtained on the Internet. Worse, counterfeit medicines can be deadly.
According to a World Health Organization (WHO) inquiry, both well-established generic medicines and innovative products are affected by counterfeiting. That is in part because high-volume (high-consumption) and expensive medicines are generally the main target of counterfeiters. WHO has gathered stakeholders to form the International Medical Products Anti-Counterfeiting Taskforce (IMPACT). It has also set up a Web-based Rapid Alert System for combating counterfeit medicines in the Western Pacific region. When counterfeit medicines are detected and reported through this system, relevant authorities are alerted immediately.
Pharmaceutical firms mostly rely on conventional methods (such as expensive packaging, hologram stickers, and 2D bar coding) to address counterfeiting. But all of this is expensive and not always effective.
There is a simple solution gaining popularity. This involves a verification code (a unique random number often placed under a scratch coating) printed on the medicine box or the blister pack. The retailer and/or the patient can verify the medicine's authenticity by SMSing that number to a widely advertised phone number. Within seconds, a reply SMS verifies or disputes the authenticity of the medicine. If the medicine is genuine, the return SMS contains its expiration date, dosage, and batch number. In case of a fake, the customer gets an alert not to buy/use the medicine, as well as the hotline number of the manufacturer or health regulator. Even if the customer does not inform anybody, the authorities find out through the verification system.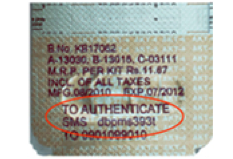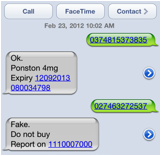 This approach has more teeth than it seems. Due to its use of telecom networks, the system has built-in location intelligence. The phone number database built from the users of this system can be used to communicate with retailers and customers.
The key to this solution is the random number. The secrecy of the algorithm and nonvisibility of the code are critical elements, so the number is often placed beneath a scratch surface. Any counterfeiter would have to buy the genuine stock to duplicate the codes. This renders counterfeiting of such medicines commercially nonfeasible. Any duplication would result in oververification, and thus an alert would be raised in a response SMS to the patient.
Early deployments of this solution are being carried out in South Asia and Africa. PharmaSecure and Sproxil are two companies actively working in these places.
Sproxil established the first national mobile-based anti-counterfeit service in Africa and claims to have sold millions of anti-counterfeit labels to several global pharmaceutical companies. More than 1 million consumers have used the system to verify medicines. Sproxil also received $1.8 million from the Acumen Fund, a nonprofit global venture fund, to expand operations in India and Eastern African countries such as Kenya, Tanzania, and Uganda.
Encouraged by the results of its early deployments for counterfeit drugs, Sproxil now offers the same solution for other products at risk of being counterfeited. The company recently won the Boston IBM Smart Camp 2012 competition.
Related posts:
— Talha Khalid is a teacher and business manager based in Pakistan.