Enterprises looking to get a jump on how they're doing in the market may need to look no further than the nearest social network.
Recent research by comScore Inc. shows that consumers are voting with their dollars -- "trading down" when buying typical consumer packaged goods and consumables such as toothpaste, mouthwash, shampoo, and over-the-counter medicines and food items.
"In March 2010, less than 50 percent of shoppers reported purchasing the brand they want most," stated comScore's announcement. And in some cases, the percentage is as low as 34 percent.
In some ways, this is common sense: Less money in the consumer wallet = less spending in the market = a rush to buy as a cheaply as possible.
But common sense doesn't always accurately mirror reality.
For example, by stock market performance and raw financial performance measures, there appear to be a few "econolypse immune" brands, such as Google and Apple, as opposed to brands like Johnson & Johnson, Pepsi, and Dean Foods.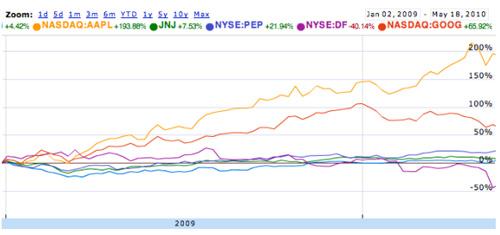 ComScore research shows that Internet users are reporting en masse that, while some brands remain worth the premium, many others are feeling the hurt.
Why is that, and what lessons can we learn moving forward?
First, comScore's data appears to indicate that businesses need market sensors that they can reliably tap to sense the current state of the crowd and adapt to changing circumstances. Information is power, and the sooner a business can become aware of new information, interpret it, and respond to changes in the market place, the faster they can run ahead of their competition.
Waiting for monthly, quarterly, or annual reports from the likes of comScore, Nielsen, et al., is not nearly fast enough. Market information is available to companies along the supply chain. Another source of information lies in social networks. With social media, firms can tap an "early warning system" for changing sentiment and make purposeful decisions on how to address this change in attitude -- without waiting for comScore or other polling/research firms to deliver the news. This becomes a magnifier for more traditional sources of "awareness intelligence" (from customer polls, market research data, quarterly in-store sales information, etc.).
Even for those organizations that are not "actively engaging" their customers in conversation in the social realm, there is still plenty of business opportunity simply in listening and observing what goes on out in public -- it may well be the most valuable, and fastest, intelligence that you could ever hope for.
Organizations that do not (for whatever reason) choose to tap into social networking information are likely to find themselves rapidly squeezed from both the high-end, economically bullet-proof "loyalty brands" that run away with the high-margin business; and from underneath by competitors that kill them on the low-end price points.
I have heard from contacts involved in retail market distribution that their business, and those of the grocery stores or other chains that they supply, has risen sharply since mid-2008. They are, essentially, immune to the economic downturn as a result of specifically tuning in to both in-store consumer sentiment (measuring purchases, complaints, suggestion box entries, etc.) and social media sentiment as a way to stay plugged in to the market directly.
If there was ever any doubt about the potential of social media, let this be a warning: Either get started, or keep running ahead. The only option that is guaranteed to have bad outcomes, is to do nothing.
So, what are you waiting for?
— Dan Keldsen is a Principal and Strategic Advisor at Information Architected.