The drumbeats are loud. Google, reports filter out of Asia, is preparing to manufacture its own Chromebook, to be branded Google and/or Nexus. The blunt question: Is this dumb or smart on the part of the Mountain View, Calif.-based company?

I am typing this on a Chromebook and what strikes me is this: At a glance, the only brand I see is Samsung, which made this device.

Close the device and the top cover says, "Samsung." A badge says, "Chrome." There is nothing that says, "Google," not on the top or bottom of the machine and not when the display is open.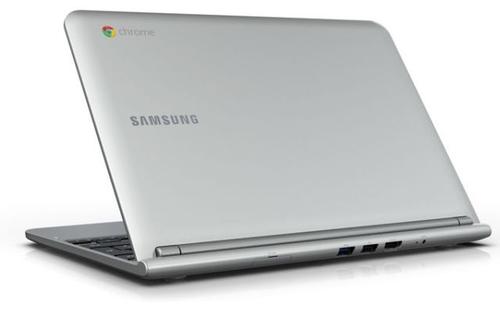 Slapping the Google name on every device just might be a brilliant move, suggest some experts -- but maybe just as important is that this is "a chance to stick a thumb in Microsoft's eye," said Adam Hartung, managing partner of consulting firm Spark Partners. "Microsoft has never been this weak."

After all, the debut of Microsoft's Windows 8 has been met with much griping. The developer's Surface tablet launch received indifferent yawns. And does anybody care about Windows phones?

Add up the Microsoft flubs and what emerges is an open door for Google into the enterprise, said Hartung. The Google bluelight special is the Chromebook, an extraordinarily well-priced netbook. The top-of-the-line model retails for $449, and a smaller model sells for $249. Add an enterprise license for Google Apps -- at $50 per year per user with many discounts available -- and the fully loaded price cannot be matched by would-be Microsoft challenger Apple. And Windows-based netbook deals would struggle to keep pace with that all-in price.

First question: Will Google's steadfast hardware partners stay the course, or will they grow angered by the company's rumored foray into manufacturing, much as Acer has threatened Microsoft over the Surface tablet (where Acer said Redmond's own hardware was like "hard rice" -- as in, "not so easy to eat")?

The shrewd bet is that Samsung, which has carried the load with Chromebook, honestly could not care less. Chromebook sales totals, never released, are thought to be incidental.

Meantime, it is in a bed of conjugal bliss for Samsung and Google, at least regarding mobile phones, where Samsung has ridden Android to become a formidable rival to Apple. Samsung is not going to shake that relationship. Neither will Acer nor Asus, which have also manufactured some Chromebook models. The few pennies they have earned from Chromebooks just aren't worth aggravating Google.

Which brings us to the big question: Should a CIO take the plunge into Chrome OS?

Hartung, in an interview, raised what has to be the worry on any CIO's mind -- even one who is faced with upgrading an enterprise from Windows XP to Win 8 and quite possibly junking a range of peripherals and computer hardware that cannot make that journey. "How committed is Google to the Chromebook and Chrome OS?" he asked.

The company has a long history of terminated initiatives that, although once promising, eventually got the stink eye by Larry Page, and were buried in the basement. These include everything from a clean power initiative through Google Wave and Buzz. The company's executives repeatedly proclaim that Google is an advertising company and this can only cause more uncertainty on the part of any CIO contemplating a plunge into a Google-branded Chromebook.

But, just maybe, suggested Hartung, winning a lot of enterprise sales does not matter anyway. Maybe what matters is simply jabbing -- and jabbing more -- at a confused Microsoft. "This is an historic opportunity for Google to deepen the rivalry," said Hartung.

If this is a game of high-stakes corporate chess and if Google's plunge into an enterprise hardware play prods Redmond to double down on its enterprise desktop and laptop businesses -- when probably it should be focusing on mobile, which is almost certainly the new enterprise frontier and where Google is sprinting into a real lead over Redmond -- just maybe it doesn't matter if Google in fact is only dabbling in hardware.

Not when the real and only game is pin a tail on the dying Microsoft. And not when this feint prods Microsoft to defend a front Google may, in fact, have little interest in. At least that's a theory.

— Robert McGarvey has been online and writing about the Internet for nearly 25 years.