Mayor Rahm Emanuel of Chicago is betting big that Facebook-style social network intelligence can tame the escalating gang violence in the nation's third-biggest city, where 269 murders were recorded in the first half of 2012 -- a 38 percent increase over 2011.
In New York, a city with a population nearly three times higher than Chicago's, homicides fell 17 percent, to 194.
Here is the issue put bluntly: Can big-data analytics save lives in a city that is struggling with rising gang violence? A few weeks ago, that violence snuffed out the life of seven-year-old Heaven Sutton, apparently as one gangster shot at another.
Emanuel does not have many bets on this board. Budget cuts have disbanded the anti-gang police units that used to flood high-risk areas after an incident of gang violence. The mayor told the Associated Press that tactic did not work. "I don't think coming in, swatting something down and letting it come back in two weeks is strengthening a community. What it does is build up cynicism."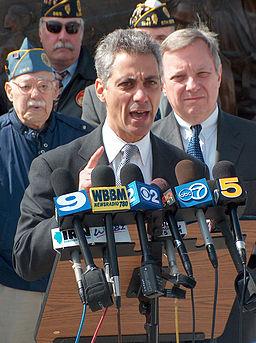 Chicago Police Superintendent Garry McCarthy has reassured the community that the agency's social network analytical tools will help it combat "tit for tat" gang violence more effectively. "We were seeing four and six shootings in the hours after an initial event," he told the Wall Street Journal. "They go back and forth like a tennis ball. You shoot us, we shoot you; you shoot us, we shoot you."
The core idea is that analytical tools will help the Chicago PD determine more precisely who will attempt to avenge a particular murder. McCarthy used that same idea when he worked with the New York Police Department, where the CompStat system has been credited with reducting gang violence.
Police visionaries increasingly view CompStat as analytics 1.0 -- "putting cops on the dots," according to McCarthy. That's because it generates red dots indicating where trouble has occurred, so police officers can then flood the area -- the very tactic derided by Emanuel. Now, however, cops in Chicago and other cities, including Memphis, Minneapolis, and Los Angeles, are attempting to leverage big-data analytics to predict where crimes will occur. It's an ambitious effort to pinpoint a location before a crime happens. That would indeed be a game changer.
The big question: Can big-data analysis techniques be applied to gang crime? Big-data has become extraordinarily efficient in predicting consumer behavior -- if you buy soda XYZ when it is on sale, you are more likely to buy chips XYZ than chips PQR. An analyst who confirms this point has reams of data to prove the correlations. That helps merchandisers position products for still higher sell-through.
Can the same thinking cut gang crime? There are skeptics. "The heart of the problem is this assumption that there's some rationality to these shootings," John Hagedorn, a criminologist at the University of Illinois at Chicago who has studied the city's street gangs, told the WSJ. "These aren't gang wars; this is just a lot of really spontaneous, nasty stuff going on."
That is why several Chicago aldermen have called for the restoration of the anti-gang units and the swamp-the-area techniques. And Jody Weis, McCarthy's predecessor as Chicago's police superintendent, seems to be calling for the same. "It might be time to call an audible ó make a slight course adjustment," he told the Chicago Sun-Times.
Weis acknowledged that it might not be possible to restore the anti-gang units, because the Chicago PD headcount has fallen from 12,500 when he was superintendent to less than 12,000. "There may not be enough officers now to have specialized units." That means Emanuel's bet on big-data just may be Chicago's only bet. A lot is at stake, including tourist and convention dollars and resident contentment.
Call this big-data's bloodiest test. There is no predicting outcomes, but you have to hope that IT prevails against irrational criminality. You just don't know if it will.
Related posts:
— Robert McGarvey has been online and writing about the Internet for nearly 25 years.