Quantum cryptography seems to be the latest buzzword when high-tech fiction writers need some indecipherable technobabble to confuse and impress their audience. Recent examples include investigators lamenting unbreakable quantum encryption on CBS's NCIS, or the military using it to prevent giant alien robots from intercepting satellite communications in Paramount's latest Transformers blockbuster.
Despite all the exaggeration and hype, the practical application of quantum physics to computer networking is happening now -- and it's incredibly cool. Indeed, quantum research could eventually enhance the security of Internet connections in deep space.
For those of us who are not quantum physicists (or Hollywood producers), there's some confusion about how all this could occur.
Quantum mechanics is a set of principles that describe the physics of very small things like electrons, protons, and smaller subatomic particles. A key quantum theory called quantum entanglement describes a property in which the quantum states of two or more particles become "entangled," meaning that the state of one particle is directly related to the state of the other.
For instance, photons that are split into smaller particles in science labs are considered entangled because their polarization is related no matter how far apart they are moved. The very act of measuring the quantum state of one particle will automatically establish the state of its counterpart -- even while they are spatially separated.
Imagine you and a friend halfway around the world, each simultaneously flipping one of two "entangled" coins, knowing that seeing heads on your coin always means tails on theirs… always. That's a precise analogy for what is observed with entangled particles.
Since particles possess a quantum state, they can be used to convey information (just as a classical bit of computer memory possesses a binary state, either 0 or 1).
So how does this relate to cryptography and the Internet? Cryptography is based on the principle that there are certain mathematical operations we can perform on data that can only be easily reproduced or reversed with knowledge of a secret "key." These operations are used to authenticate the data that we exchange across computer networks -- including the Internet.
In quantum cryptography, the sender generates pair after pair of entangled particles. The cryptographic key is embedded in the quantum states of half of the particles, which are beamed to a recipient, while their entangled counterparts remain with the sender. Quantum mechanics ensures that any attempt to eavesdrop on keys will disturb the system, introducing detectable anomalies. Thus, quantum cryptography allows the keys to be exchanged without worrying about interception by an adversary; communication will be aborted if a secure key exchange is not possible.
However, quantum cryptography is only useful in the generation and distribution of keys; some encryption algorithm must still be used with the keys to enable communication over a channel. Further, a problem with quantum cryptography is that it requires that the entangled particles remain undisturbed as they are beamed from the sender to receiver. This requirement has limited the range of most quantum cryptography networks to about 150 kilometers over optical fiber.
However, researchers demonstrated last year that it should be possible to employ quantum cryptography across thousands of kilometers using satellite and space-based communication. The researchers are now working with the European Space Agency (ESA) to propose a mission that will conduct a quantum communications experiment from the International Space Station (ISS).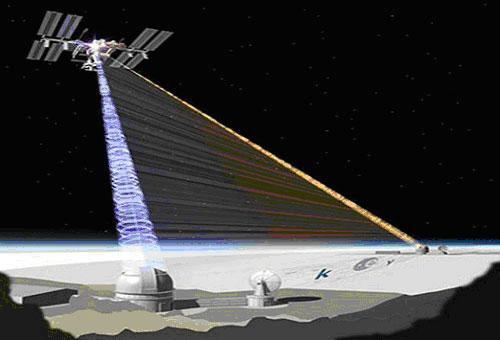 If this research succeeds, could quantum entanglement be used to enable instantaneous, faster-than-light communication across the vast distances of space -- including across the "Deep Space Internet," on which Internet pioneer Vint Cerf has been working?
Speed-of-light delay between NASA's Deep Space Network, which is set to be Internet enabled, and its Spirit and Opportunity rovers on Mars ranges from 3 to 22 minutes (depending on the distance between Mars and Earth). Could the paradox of quantum entanglement solve such problems by allowing what Albert Einstein called "spooky action" at a distance?
The answer is not yet settled. But depending on the outcome of ongoing research, quantum entanglement could someday enable faster-than-light, secure communication -- over a deep-space Web.
— Brian Barritt is a Space Communication Network Architect and contracted consultant at the NASA Glenn Research Center.