In the wake of the HITECH Act -- part of the massive economic stimulus package of the American Recovery and Reinvestment Act that will pay $30 billion to $40 billion to hospitals, physicians, and other providers that adopt electronic medical records -- barriers to adoption and worrisome IT implementation mistakes (among other things) have been, and will continue to be, a crucial concern.
To avoid problems, hospital systems and many other entities that are putting their dollars toward a digital healthcare environment are following a roadmap: the electronic medical record (EMR) adoption model from Healthcare Information and Management Systems Society (HIMSS) Analytics.
The roadmap lays out the standardized order in which a hospital or health system should be implementing its healthcare IT systems. It's a sort of walk-before-you-run guide that aims to reduce some of the barriers to effective EMRs on the Internet.
The EMR Adoption Model details progressively IT-rich stages, beginning at Stage 0, during which a hospital has few or only basic tech capabilities, through Stage 7 -- the Holy Grail of healthcare IT.
Table 1: US EMR Adoption Model

Stage 0: No or Rudimentary IT
Stage 1: Laboratory, Pharmacy, and Radiology Systems Implemented
Stage 2: Clinical Data Repository and Basic Conflict Checking
Stage 3: Integration with CDR, First Level Clinical Support and PACS
Stage 4: CPOE and Second-Level Clinical Decision Support
Stage 5: Closed-Loop Medication System and eMar
Stage 6: Full Doctor Documentation and Full Complement PACS
Stage 7: Paperless Environment
Stage 7 hospitals have medical records that are fully electronic, giving them the ability to deliver patient care without paper charts. They can also quickly share information electronically with other hospitals and can use their databases of clinical data and information to create improved care, patient safety, and better outcomes. Stage 7 hospitals show what is possible using a full EMR environment.
Not surprisingly, such advanced healthcare IT is rare. HIMSS Analytics, a not-for-profit subsidiary of the Healthcare Information and Management Systems Society, collects data on the EMR Adoption Model progress (or stage rankings) of more than 5,000 hospitals in the United States each quarter. At the end of 2009, fewer than 1 percent (0.7 percent) of hospitals had achieved a Stage 7 rating, and a notable portion (11.5 percent) were still at Stage 0.
Still, US hospitals are demonstrating movement to higher stages (see graph below), albeit with less impressive gains above 4.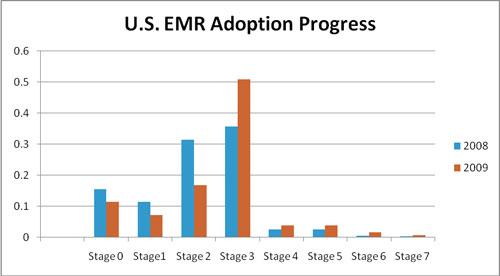 The largest percentage of hospitals (50.9 percent) rank at Stage 3, up from 35 percent in 2008. In Stage 3, hospitals have installed some clinical documentation, such as vital signs and flow sheets, integrated with the clinical data repository (CDR), and have at least a first level of clinical decision support to conduct error checking for drug reactions. Theyíve also implemented some level of secure Internet access to picture archive and communication systems (PACS).
More hospitals also have moved to Stage 4, which signals implementation of computerized practitioner/physician order entry (CPOE) and deployment of a second level of clinical decision support capabilities related to evidence-based medicine protocols. In 2008, 2.5 percent of hospitals had achieved Stage 4; in 2009, that number grew to 7.4 percent.
And showing far more modest gains, from 2008 to 2009, Stages 5 (closed loop medication administration), 6 (full doctor documentation and full complement PACS), and 7 (paperless environment) gained 1.3 percent, 1.11 percent, and 0.4 percent, respectively.
— Diann Daniel is a freelance writer and editor based near Boston whose coverage areas include business intelligence, innovation, and Web 2.0.