Marketing departments almost immediately latched onto Twitter as a great tool for spreading word about their brands, but Celina Insurance is using the microblog to help keep the entire company running in the case of emergency or disaster.
When the insurance carrier switched to IP phones, it immediately realized it wouldn't be able to depend on the clunky but reliable phone tree method of informing employees about a company-wide outage or weather-related closure affecting its network-based systems such as phones and email, said Rob Shoenfelt, senior vice president and CIO at Celina Insurance, in an interview. Sure, the company could have figured out a way to use employees' personal phones, but the team decided that Twitter would be more effective and efficient -- even though 98 percent of staff did not use it at the time, he said. (See: Celina Insurance: From Tech Laggard to Tech Leader.)
We sat with senior staff, got them set up with Twitter accounts, and all of a sudden we had a lot less trouble. It's a fallback position. We have a traditional calling tree, but do I really want to make 18 phone calls at 5 in the morning? [Twitter] is basically a broadcast text message. We just kind of came up with it. We did close the office at Christmas and used it. We send a tweet once a quarter. When we do a full DR test, we send a tweet.
Celina uses a special, protected "@CelinaDisaster" profile, accessible only by authorized users. Since public networks and cellphones are more apt to be working if the carrier suffers an emergency, it is likely staff will see the 140-character missive.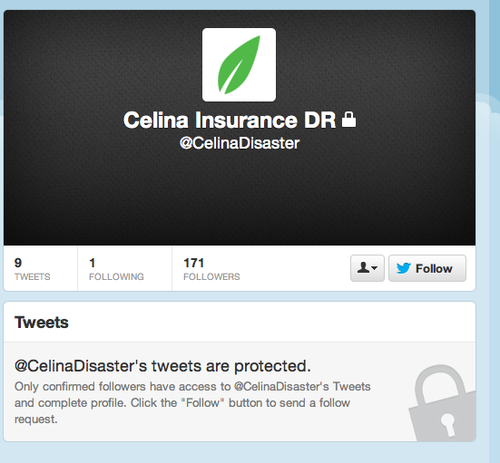 Because so few employees used Twitter when Celina created this program, Shoenfelt's biggest issues revolved around adoption and fee concerns, he told me.

Thus the IT team spent a lot of time creating senior executives' Twitter accounts, educating them on the popular platform, and walking them through how Celina would use it to broadcast company-wide messages. Because of this executive buy-in, all employees were open to using Twitter -- at least for DR. Shoenfelt said, "When we rolled that out, we made sure every single one of the senior executives were signed up and out there.

Some workers who didn't have all-inclusive mobile plans were concerned about fees they'd incur for each Twitter-related text message, he said. Shoenfelt assured employees they could file an expense report for reimbursement of the approximately 25-cent charge.

No flock of tweeters Somewhat surprisingly, Celina may be in the minority in its use of Twitter. In 2011, only one fourth of businesses used any form of social media within their DR initiatives, I wrote in InformationWeek. Of course, that study is two years old so the percentage should have grown -- but it's hard to imagine it's doubled in that time.

Yet plenty of public-sector and humanitarian examples exist. In hurricane season, oil companies tweeted updates about upcoming storms, the Los Angeles Fire Department notifies residents about fires and traffic accidents, and after a terrorist attack in India, hospitals used Twitter to notify citizens about which sites needed blood donors.

Twitter won't fix a downed server or sideline a snowstorm. But it's a cost-effective, efficient way to alert employees -- whether en masse or specific to an emergency IT team -- about critical news preventing normal business operations. Seems there's little to lose, and lots to gain, for those businesses willing to give Twitter DR a try.

Related posts:

— Alison Diana



, ThinkerNet Editor, Internet Evolution