Rob Shoenfelt, CIO at Celina Insurance, is the first to admit that insurance firms aren't known as leading edge adopters of technology. But Celina Insurance isn't like most insurance firms.
The Celina, Ohio-based company, which was founded in 1914, actually leverages its adoption of collaborative and cloud technologies as differentiators, even promoting its implementation of "easy-to-use technology" on its website's homepage. With about 175 employees and a base of approximately 500 independent agencies -- which can carry up to 10 insurance carriers -- that sell to end customers, Celina competes against much larger insurance carriers and relies extensively on providing superior customer support and building strong relationships to separate itself from these competitors.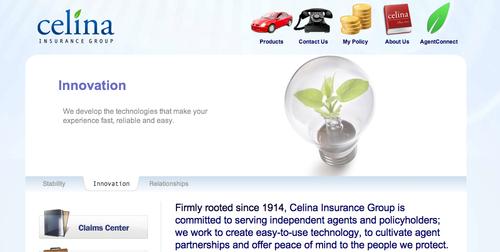 The path to social
The business wasn't always so technologically savvy, Shoenfelt told me in an interview. "We didn't even have email in the late 90s, 98. We were probably the last firm to adopt email."

That changed in 1999 when Celina decided the future lay in the web. Back then, Celina partnered with IBM (sponsor of Internet Evolution), and built an extranet based on IBM Lotus Notes and Domino, IBM Lotus Sametime, IBM DB2, and an AS/400-based inquiry and transaction processing application. Part of the solution included instant chat, which almost immediately broke down barriers between individuals and departments, he recalled. Although there were some naysayers -- people who still disliked email and didn't see the value of that software, in part because they still used dumb terminals -- more employees used chat, enjoying their ability to reach colleagues and see workers' availability, said Shoenfelt.

Still relatively new at Celina during this period, Shoenfelt fully used his honeymoon period to buy laptops and desktops, and created a teleworker program that allowed, for example, one of his best developers to work from home sometimes. However, some employees used their messaging system's presence-awareness capabilities to monitor remote workers' online availability, reporting when a colleague wasn't at their desk (unaware that the developer had been coding through the night), Shoenfelt said, with a laugh.

Executives' use of messaging was also crucial to employees' eventual embrace of this technology, he added:
We were a traditional top-down company, even though we were small. We looked at the tools as a way to break that down. Instant chat broke down a great deal of the barriers and the silos that had been set up. People don't seem to look at titles when you're online, how long you've been here, or what time of day it is. It's kind of a free for all. When the bosses are doing it, it suddenly becomes okay.
Beyond four walls
Celina soon provided the same capabilities to its 500 independent agents, enabling them to connect with staff via instant message. In the Sametime solution, agents see a photo of the underwriter, sales representative, or a general Celina contact if the agent is uncertain who to reach. Shoenfelt told me:
We don't want to overwhelm them but we want to take advantage of all these capabilities. It builds an electronic bond between them and a relationship that wouldn't otherwise have existed. If he's an Iowa agent, he doesn't care about the Idaho sales rep. That was just a huge thing for us. Our tag line is stability, innovation, and relationships. We use that tech and innovation to strengthen the relationship. What we really want to start doing -- and we think Notes 9 can really help us -- is help the agents start communicating with each other.
In fact, Celina was a launch partner for IBM Notes and Domino Social Edition 9, released last month (See: IBM Ready to Ship Notes & Domino 9 Social Edition).
Shoenfeld credits IBM technology for Celina's ability to grow revenue with fewer employees: In 2011, the company earned $60 million with about 245 employees. After adding Domino, Celiina's revenue grew to $110 million, yet headcount dropped to 165 people, he said.
As the insurance firm continues to implement Notes and Domino 9, the company is also dipping its toe into the cloud -- into IBM Smart Cloud, in particular. While Celina is not "100 percent comfortable" with putting all data into the cloud, it does see potential for moving some administrative information to the cloud, said Shoenfeld:
All of our agents use the web stuff we built on the Domino side. All 165 have a Notes client they use. Our goal would be to move some of those people onto the Smart Cloud. We will always have these apps we run. Our business is built on Domino. We'll probably move half the staff eventually -- they won't have a thick client; they'll just have a browser. The other half will probably end up with a thick client. They'll have specialized apps for workflow, data, etc.

We don't have firm numbers. We see it as more of an administrative savings benefit, rather than cost savings. We want to move Sametime out into the cloud if we can because it's not our expertise. Our expertise is clearly on the Domino side. It's not necessarily business-critical. If IBM can host it in the cloud, let IBM host it in the cloud.
For a company that once shied away from email -- a tool in use by two thirds of American employees at small and midsize businesses, according to a 1999 IDC study -- Celina has come a long way. Of course, it's never wise to adopt technology simply for technology's sake; it's equally valid never to shun high-tech advances for fear of disrupting the status quo. Long ago, Celina recognized the potential of the web, of collaborative and social tools, and is now turning to cloud for some of the flexibility, agility, and other benefits this technology will deliver.
Related posts:
— Alison Diana



, ThinkerNet Editor, Internet Evolution