Dave Rowland doesn't know much about rice -- at least not yet -- but as the new IT manager of SunWest Foods, this longtime IT professional is using his technological and business expertise to help the large rice mill stay free of bugs. Computer bugs, that is.
"As it stands now, this is what I know about rice: There's white rice and brown rice. There's short grain and there's long rice," he told me. "I just started digging into the database info here. I'll learn more when I dig into the data."
But before Rowland could immerse himself in the mill's reams of data, he had to put out some more immediate fires surrounding anti-virus, backup, and restoration. As a new IT professional, Rowland first assessed SunWest's existing setup -- and found many processes lacking at the company, which is the largest short-rice mill in California and one of the largest in the United States, he said.
When I came on, IT was here just to keep things running day to day. It wasn't making any improvements. I'm not talking bad about the people here before me, but there were a lot of risks. Backups, antivirus, everything -- they were not done right. They weren't even regularly taking backups off site If we had a catastrophic event on the server, it would take all day or even into the next day to get it operational again. The company needs to operate and I don't think it was an effective way to do it.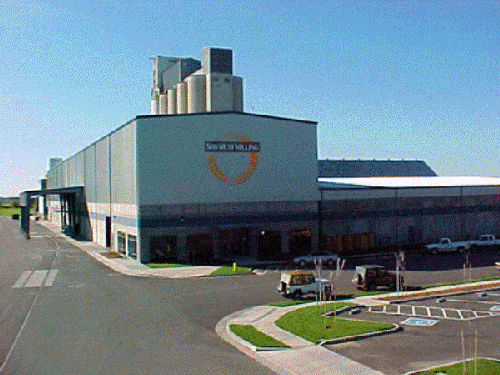 Rowland, who previously worked at a medical device manufacturing division of Henry Schein, purchased a Symantec Backup Exec Appliance to more speedily handle backup and restoration. Now, it takes a formatted 16-gigabyte hard drive about 20 minutes from failure to restore, he said. Although these particular servers don't run the milling itself, the company's inventory would rot if Rowland's servers went down:
They would still be able to mill rice if one of these servers went down, but they wouldn't be able to ship it. If they can't ship it, there is no money. I was only here two weeks when I brought it up to the president. I had no problem convincing him. Once I told him if something happened we would be down, they realized it was pretty important to do something.
Although SunWest was previously using antivirus software, each machine was manually loaded with upgrades -- a time-consuming and error-prone process for the three-person IT department (including Rowland). Software was purchased ad hoc from big-box stores and users had control, allowing individuals to turn A/V off. Now IT has central control over purchasing, installation, upgrades, and features, Rowland said. This standard approach saves SunWest money, IT time, and the entire company has reduced risk, he noted.
There are several other standard-issue items on Rowland's agenda. With an average server utilization rate of just 12 percent, he is exploring virtualization as a cost-saving, agility-improving solution to replace the company's aging servers. The youngest box is three years old, said Rowland, so many are beyond replacement age. Virtualization gives SunWest an affordable alternative to purchasing multiple expensive models, especially since all existing boxes are underused.
SunWest's campus environment includes mills, offices, warehouses, loading docks, and other buildings that communicate via a mix of radio frequency, line-of-sight, and wireless. Robots and programmable logic controllers operate many areas of the organization, making things automated, cost-efficient, and productive. There is a lot of concrete, however, which limits the mill's ability to use wireless in many areas, said Rowland.
Also on the agenda: Digging into SunWest's database to see what technological improvements the IT team can make and how, perhaps, IT can further enhance the company's international sales to Asia, Japan, and Korea. And, of course, to enhance Rowland's own knowledge of rice and the business of producing this nourishing food.
Related posts:
— Alison Diana



, ThinkerNet Editor, Internet Evolution