Some executives at midsized companies may be rethinking their use of social media after the response Enterasys got to its recent decision to rely exclusively on social media to recruit a top-level executive. Vala Afshar, chief customer officer and chief marketing officer at the networking company, last month told USA Today he wasn't accepting traditional resumes for the six-figure social marketing position. Instead, he wanted tweets. As he said in the article: "The paper résumé is dead. The Web is your résumé. Social networks are your mass references." To be considered, candidates must have a minimum Klout score of 60; a Kred influence score of at least 725; a minimum Kred outreach of eight; and at least 1,000 active Twitter followers, according to Business Insider.

Afshar, a prolific tweeter himself, immediately became the subject of much online chatter. That included feedback from employers and employees who had placed or found jobs on the social media site over the years, as well as some skeptics.

More companies are turning to social media as part of their recruitment strategies, including midmarket organizations looking to stand out from larger competitors. Last year, Time reported that 92 percent of businesses use or plan to use social media for recruiting, although the article didn't say whether social networks would supplant or complement traditional recruitment methods. That's up from 89 percent in 2011, and I'd expect 2013 figures to be slightly higher still.

In the 2012 Social Job Seeker Survey by Jobvite, one in six respondents credits social media for their current job: Of those, however, only 16 percent cite Twitter or LinkedIn. Eight percent of those surveyed found their "favorite or best job" via Twitter, while 6 percent credited LinkedIn, the poll said.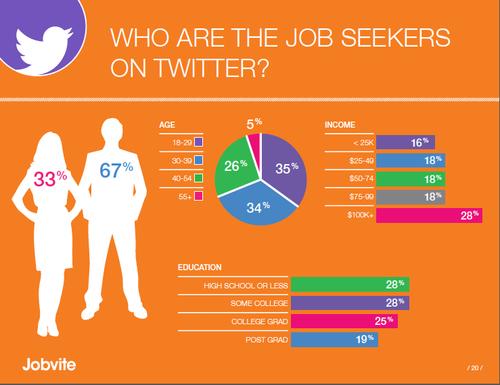 There are countless other people who may not have landed a job wholly based on their social media presence, but who became candidates because of their personal online brand, the items they posted on LinkedIn, and the links they retweeted on Twitter. But does that mean the paper (or more likely, emailed) resume is dead? If your midsized business is recruiting younger employees or highest paid positions, then social media may be an attractive primary -- or certainly complementary -- route to locating the best candidate. But as Jobvite's chart shows, however, more than double the number of men use Twitter to job hunt, so searches may be biased against women.

There are tools developed specifically for Twitter job quests: TweetMyJobs and TwitJobSearch. Of course, placement firms are leveraging social media as part of their services, too.

Twitter may not be the best resource for all positions or employers. Afshar has almost 14,000 followers, and new employee will be heavily involved in social media; a strong Twitter voice and persona is, then, an important aspect of the candidate's skillset.

When considering whether to use Twitter as one of your job recruitment tools, here are some recommendations:
Does the position require social media savvy? If not, using social networking to recruit these employees may not make the most sense.


How big is your own social media presence? If you or your organization have only a limited Twitter following, your message may only reach a small number of prospective employees.


How will you handle traditional resumes? In Afshar's case, he said he will not review paper or emailed CVs. Can you afford to do that? If not, how will you ensure you fairly judge both types of applicants?
At the end of this process, of course, it's the employee -- not the medium used to find them -- that's most important. Let's not forget this debate roars.
Related posts:
— Alison Diana



, ThinkerNet Editor, Internet Evolution
The ThinkerNet does not reflect the views of TechWeb. The ThinkerNet is an informal means of communication to members and visitors of the Internet Evolution site. Individual authors are chosen by Internet Evolution to blog. Neither Internet Evolution nor TechWeb assume responsibility for comments, claims, or opinions made by authors and ThinkerNet bloggers. They are no substitute for your own research and should not be relied upon for trading or any other purpose.

previous posts from Midmarket Clan Editor's Blog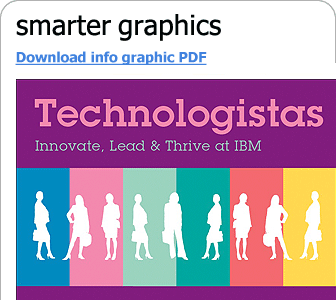 an IBM information resource


an IBM information resource

Expert Integrated Systems: Changing the Experience & Economics of IT

In this e-book, we take an in-depth look at these expert integrated systems -- what they are, how they work, and how they have the potential to help CIOs achieve dramatic savings while restoring IT's role as business innovator.
READ THIS eBOOK


your weekly update of news, analysis, and
opinion from Internet Evolution - FREE!
REGISTER HERE



Wanted! Site Moderators

Internet Evolution is looking for a handful of readers to help moderate the message boards on our site – as well as engaging in high-IQ conversation with the industry mavens on our thinkerNet blogosphere. The job comes with various perks, bags of kudos, and GIANT bragging rights. Interested?

Please email: moderators@internetevolution.com