Face it: Your team can't stand still (and shouldn't), but the plethora of choices in the mobile device department are making it hard for midmarket CIOs to manage them all.
As you can see from the graphic below, RIM's BlackBerry is still king in the enterprise, but those pesky Apple Inc. (Nasdaq: AAPL) iPhones and Android-powered Google (Nasdaq: GOOG) devices are creating more fans every day.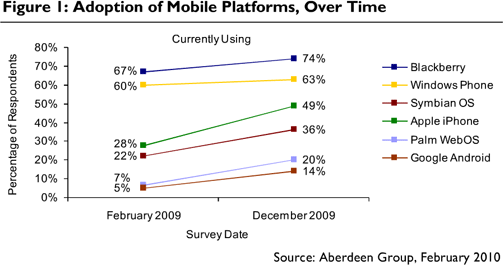 In fact, a recent report by Kelton Research found midmarket companies are putting a high value on mobility. The survey of 500 companies in the US and UK revealed 63 percent of non-IT managers say remote access services make their staffs more productive.
But enterprise management shouldn't be a monolithic set of capabilities like other business processes, but rather a sequential series of capabilities, according to a recent Aberdeen Group Inc. research brief.


Data can help you
see the future.
Click here to see IE's
Predictive Analytics
tutorial.
"The recent trend of re-consolidation of mobility under IT management indicates the evolving maturity of enterprise mobility as core infrastructure, essential to remaining competitive in today's global economy," says Aberdeen analyst and report author Andrew Borg.
The latest recommendation for midmarket companies includes breaking down the enterprise mobility management lifecycle into separate parts: provisioning; performance management; operations and support; compliance and security; expense management; and decommissioning.
Remote control management capabilities are a huge competitive advantage, for example. Of those CIOs surveyed by Aberdeen, 70 percent centrally manage their mobile devices over the air, and 65 percent can update mobile software over the air. More than half (58 percent) are able to remotely lock and wipe data from a lost or stolen mobile device.
The report suggests midmarket companies look for vendors whose capabilities closely match their current and planned mobile platform environments. Insisting on centrally managed over-the-air capability helps ensure your company's devices can be locked remotely and wiped if needed.
So how does a midmarket CIO choose a proper mobility management provider?
Aberdeen's report dissects 18 of the leading mobile management providers:
The landscape is changing for these companies, as Sybase was recently acquired by SAP AG (NYSE/Frankfurt: SAP), and McAfee's Trust Digital division is expected to become part of Intel Corp. (Nasdaq: INTC).
What's interesting about Aberdeen's breakdown is the types of devices that they asked about. In addition to the usual suspects -- laptops, smartphones, and the iPad -- Aberdeen also included the category of Android tablet computer, a relatively new entry in mobile devices and one that is expected to give Apple's iPad a run for its money.
What's also telling is the planned adoption of Microsoft Corp. (Nasdaq: MSFT) Windows 7 smartphones, which haven't even officially launched yet. The initial carrier, AT&T Inc. (NYSE: T), isn't saying when it will provide Win 7 smartphones to the general public, but photos are already surfacing. It shouldn't be a hard transition, as Microsoft is taking great pains to make sure new releases are compatible with enterprise messaging systems.
Most of the 18 mobile management providers say they are planning Win 7 Mobile support by the end of the year; RIM and Sybase are among those leaving Microsoft off the table.
— Michael Singer, Senior Editor at Internet Evolution, is focused on executive (Executive Clan) and midmarket (Midmarket Clan) issues.