I had a "learning moment" early in my writing career. A source and I assumed that the other would back-check some details. That proved to be a mistake on my part. Thankfully, my all-knowing editor corrected my oversight.
Finding information is relatively easy, thanks to the World Wide Web. Almost too easy: People (like me) get lulled into not verifying search results. But it appears that Rob Ennals, team lead on the Confrontational Computing project at Intel Labs understands my dilemma:
"The Web provides users with a huge number of pages that they can read, but extracting useful and reliable information from these pages can be difficult. Not everything on the Web is accurate, and important information on a topic will typically be spread across a large number of pages."
Ennals and his team decided to do something about it. In order to accurately verify Web-based information, the researchers decided users need the following:
A browser add-on capable of pointing out statements that have multiple viewpoints and provide sources of origin for the alternate viewpoints
A venue where members can add disputed claims to a searchable database
The research team got to work and created Dispute Finder.
This application consists of a browser extension and page annotation script, a shared database server, and a Web-based "claim browser" interface. The four components are independent of each other but communicate via an open API.
The application is somewhat unique in that its success depends on two groups of users, activists and skeptical readers:
Activists are users who care enough about a subject to search out information they disagree with. Then, using technologies similar to WikiTrust and tagging systems, the activists highlight and collect details about the disputed information, making it possible for the browser tool to link to it when the disputed topic is searched by a user.

Skeptical readers are users who want to be alerted when something they are reading is disputed.
Here's how it works: If a skeptical reader happens upon some contentious text, Dispute Finder will highlight the text, if it has been previously linked by an activist.
For example, take the phrase, "global warming does not exist," as shown below: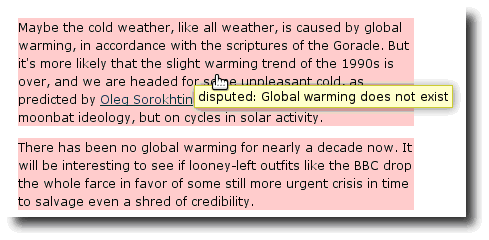 If you click on the highlighted area, a window will open, presenting alternative viewpoints as depicted in the following slide: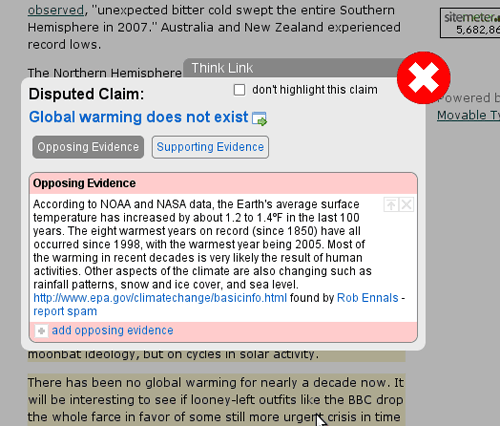 To fulfill the second parameter, researchers designed a Web application that allows members to add new disputed claims, as shown in the screen below: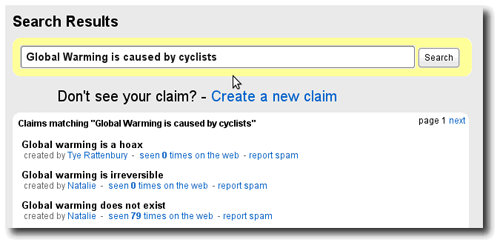 A concern I have is the vetting process that disputed claims go through. Right now there doesn't appear to be one. Ennals states: "Since our graph and user base are currently small, we have not yet evaluated how Dispute Finder works when data sets are huge, many users are concurrently editing data, and some users are malicious."
Despite my concern, Dispute Finder has successfully advised me since June. Try it, you might like it.
— Michael Kassner is a writer and consultant specializing in information security.