Instead of running multiple different systems, the University of Concepción wanted to standardize on a single platform for all its technologies. This would allow the educational facility to more easily support future growth and ensure a consistent, reliable response.
After all, using multiple vendors' products can cause integration issues. Internal IT staff needs more training and certification. Complex problems can lead to vendor finger-pointing at the expense of the customer and its end users.
The decision to consolidate represented the university's largest IT investment in the past decade, said Sergio Lavanchy, principal. The school's IT department wanted to enter a partnership with a solution provider proficient in both education and the technology it ultimately selected.
Ultimately, the University of Concepción chose IBM PureSystems, opting to team up with IBM Business Partner CRECIC. IBM is the exclusive sponsor of Internet Evolution.
"Experience has shown that to purchase solutions that integrate multiple brands and technologies always create difficulties in its implementation by local integrators, from logistical errors, such as not receiving all necessary components on time or receive them wrong, to errors in the design of solution," said Lavanchy, in an interview. "Our organization did not want to deal with the difficulties above, since we required a secure and proven performance to support critical services that drive the business. The IBM solution offered to meet these expectations and also allowed a unified and integrated administration without a significant increase in costs."
In addition to modernizing the university's IT infrastructure, the solution increases the availability and storage of student and teacher email accounts. It expands the facility's storage capacity and processing ability, allowing it to provide a stable and secure platform for all its websites, the university said. That's because PureSystems integrates servers, storage, switches, and management software onto one platform. This fact empowered the university to complete installation, platform migration, and implementation in fewer than 20 days, according to the University of Concepción.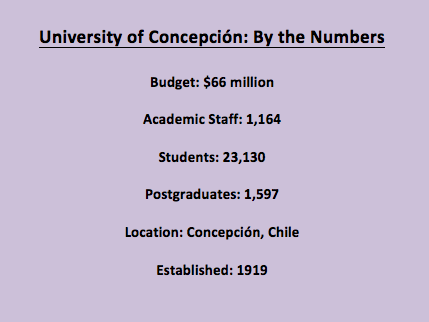 That fast turnaround was one of the investment's first of many anticipated returns on investment, said Lavanchy.
"The first benefits were observed at the time of implementation and platform configuration, which allowed us have production services in a short period of time," he said. "Furthermore, the solution had allowed the migration functionality from the previous platform simply and with a minimum of downtime."
By consolidating on IBM's technology, the entire implementation was streamlined, noted Lavanchy. IBM and CRECIC worked closely together in both pre- and post-sales, he said, to ensure fast response times and to quickly resolve any issues that occurred.
One partner, one provider, one platform -- an approach that's taking the University of Concepción to the head of the IT class.
Related posts: