From potholes to dog poop, snowstorms and street light outages, constituent services have never been better in the City of Boston under Tom Menino, the city's beloved and longest-serving mayor who, incidentally, is retiring next year.
With his distinctive voice, thick Boston accent, and malapropisms (He once referred to the city's parking shortage as "an Alcatraz around my neck") Menino has been nicknamed the "urban mechanic" for his attention to the basics that make a city thrive. Today those basics include social media.
The Mayor's 24-Hour Constituent Service Office has drawn upon a cluster of social media tools over the past five years via a tracking system called Citizens Connect that puts residents directly in touch with civil servants through mobile apps on iTunes and Google Play, Facebook, Twitter, text messages, conventional telephone, and in-person City Hall visits. In tandem with the explosion of smartphones and other mobile devices, citizen spotters have been reporting problems to officials in record numbers, rising from 8,000 in 2008 to more than 150,000 in 2012.
Not surprisingly, the brutal New England weather is a major source of activity. During the massive nor'easter in February 2013, the city received nearly 19,000 snow-related reports. But calls for removing bulk items like refrigerators and old computer monitors topped 21,000 last year, easily the largest category of reports, according to the Boston Globe. On Twitter, #SpotHoles resulted in the filling of more than 2,000 potholes -- an effort that won Boston an award from the Public Technology Institute, a Virginia-based group that recognizes local communities for innovative use of social media.
The tracking system collects constituent complaints then promptly dispatches work crews to the exact location, a combination that dramatically improves response time. "Our constituents are our best eyes and ears out there," Boston's Director of Constituent Engagement Justin Holmes told the Boston Globe. "We rely on that. They are saving us an incredible amount of time."
Wednesday afternoon at 1:45 p.m., for example, the twitter stream @CitizensConnect relayed a message from 333 Tremont Street in downtown Boston.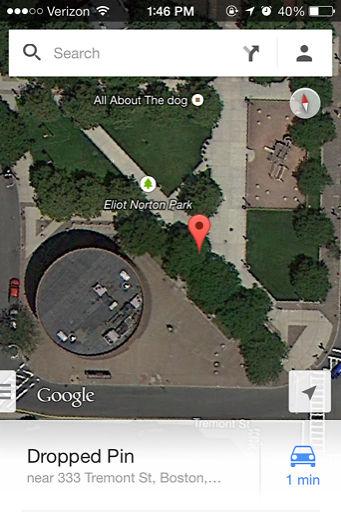 Residents are not the only ones filing reports, however. City employees also make regular submissions -- and Menino is foremost among them. "We hear from him all the time," Holmes said.

That probably won't change much after the election.

Boston's program is just one example of how cities are using social media to better serve constituents. Find out more at Internet Evolution's Seven Days of Executive Education (7DEE).

Related posts: