Job candidates looking for help to pass prospective employers' polygraph exams may find that assistance elusive in the post-Snowden years.
On Monday, US federal agents began a criminal investigation into instructors who claim to teach clients how to beat lie detectors, according to the McClatchy-Tribune. The crackdown on these teachers is part of President Barack Obama's fight against leakers, hackers, and others who want to infiltrate sensitive government organizations by fooling lie detectors, the article said.
The investigation began in 2011, after US Army private Bradley Manning's data leak, and so far has targeted two instructors, one of whom has pleaded guilty to federal charges. The paper added:
Investigators confiscated business records from the two men, which included the names of as many as 5,000 people who had sought polygraph-beating advice. US agencies have determined that at least 20 of them applied for government and federal contracting jobs, and at least half of them were hired, including by the National Security Agency.
But why do many non-security companies use polygraphs anyway? They're historically inaccurate, apparently relatively easy to beat, and often free the guilty and mistakenly taint the innocent. Besides, do you really want to work at a company that questions your integrity before Day One?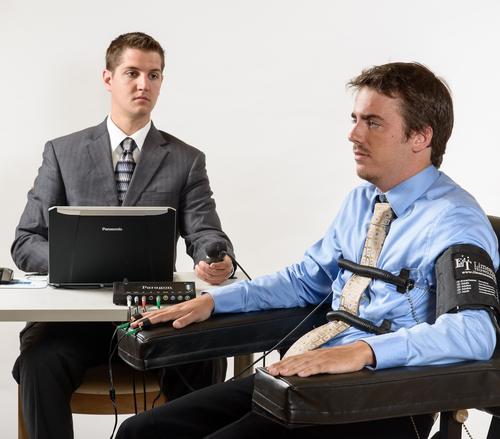 I couldn't find any statistics about the percentage of companies that force job candidates to take a polygraph test, but anecdotal evidence shows adoption is widespread. In particular, law enforcement agencies and defense contractors view this technology as a way to weed out poor candidates before they use up valuable recruiting time.

The Employee Polygraph Protection Act limits how employers can use lie detectors on current and prospective workers, although some industries -- such as federal, state, and local government, as well as private employers in security -- are exempt, according to All Law: "In general, an employer cannot require or even suggest that an employee or prospective employee take a polygraph test. The only exception is for investigations involving economic loss or injury to the employer's business."

Yet many organizations do rely on polygraphs for employment. The FBI, for example, turned down thousands of applicants -- and it's using a problematic polygraph machine as the basis of these life-changing calls, reported McClatchy. The agency is also using these same lie detectors in its criminal investigations, perhaps undermining people's very freedom.

We're not the NSA
If you're in an exempt business -- or have a situation where a polygraph is allowed -- should you bring in a tester? Would anyone bother to try and throw your test, given that you're a manufacturing corporation, a large furniture retailer, or big hospital -- not the NSA?

The Internet's full of sage advice, that is, free advice on all sorts of things including how to beat a lie detector. Since I've never taken one of these tests (and I'm a really crappy liar), I don't know first-hand whether these suggestions work. Based on what the devices measure, tips like maintaining constant breathing or giving a false answer to a benign question, I'd guess they do.

Much more important, though, is whether polygraphs themselves are reliable measures of guilt or innocence. With so many experts on both sides of this argument and the courts siding with detractors, would you be comfortable giving so much credibility to a machine and a polygraph reader?

Not me.

Related posts:

— Alison Diana



, ThinkerNet Editor, Internet Evolution