During our recent family vacation, my 13-year-old daughter and I explored a delightful boutique in Northport Village, N.Y., picking up countless rings, bangles, and earrings, before moving on to the next table. A group of three teen girls echoed our exclamations of joy at the exquisite wares the store displayed. And during the entire time, the store's owner sat behind the register, never once checking to make sure one of us stuffed a necklace, charm, or other teeny item in a pocket or purse.
It was so refreshingly pressure-free, in fact, that both my daughter and I commented -- after spending way more than I'd originally planned.
The owner's been in business a long time: This is the store's third location, in fact. It's not that he's particularly trusting of customers, something he cannot afford to be when shoplifting cost US retailers almost $9 billion during the 2012 holiday season alone. But he does trust his security solution, which features cameras strategically placed throughout the store's several small rooms.
From behind the register, the owner could watch customers browse, try on jewelry, and replace items. Or slip them, surreptitiously, into shopping bags. In other words, legitimate shoppers were left in peace. Prospective thieves were not only surveilled; their acts were caught on tape, so to speak.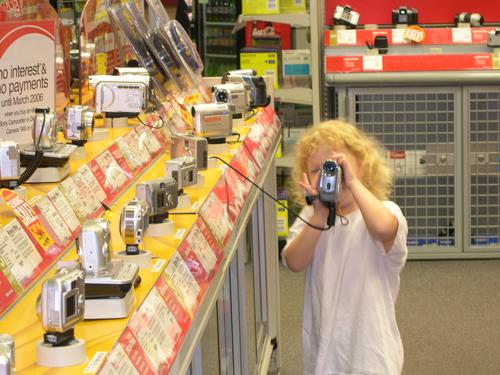 Flash back a few decades to an earlier experience I had at a large, national drugstore chain during my college years. One day, my wallet full of bartending money, I stopped in to buy makeup and immediately an older, female employee began trailing me around the store. If I picked anything up, she checked to see I'd put it back. I'm not sure if she was put off by my age, my leather jacket, or my punk rock t-shirt, but she apparently didn't like me. The upshot was I left the store, goods unpurchased, and wrote a scathing letter to the manager. He apologized profusely, sent a gift basket, and pledged to "retrain" the biased employee. I never returned to the store -- and it was years later before I even shopped at one of its many other branches.

Well-positioned cameras would have negated any need for this type of hostile, bigoted experience. Now, the technology may not have existed back then -- but it's around today, and retailers should invest in accurately placed, Internet-based cameras that can unobtrusively follow customers to ensure they're not shoplifting or vandalizing wares.

When designing your IP surveillance solution, consider whether you use sales people to monitor shoppers for potential theft. If the answer is yes, expand your video system to replace obtrusive human surveillance. Your business has a lot more to lose than merchandise. Your loss-prevention strategy could be turning into a customer-loss leader, if done poorly.

Sure, video surveillance solutions cut back on theft. But they also eliminate the discomfort poorly trained salespeople create when they over-zealously try to protect merchandise from people who weren't going to steal it anyway. And who, after being mercilessly followed by a dour-faced sales clerk, aren't going to buy it from you now, either.

Related posts:

— Alison Diana



, ThinkerNet Editor, Internet Evolution