Without any prescient knowledge into Edward Snowden's whistleblowing or the subsequent PR nightmare for employer Booz Allen Hamilton, I wouldn't have hired the technologist. It has nothing to do with whether or not he's a high-school dropout. Or the value of self-teaching versus formal education. It's because I don't like working with arrogant people or inflicting them on my teams.
Plenty of others disagree. In fact, some in the IT business clearly believe arrogance goes hand-in-hand with brilliance. In his Slate article, "I Would Have Hired NSA Whistleblower Edward Snowden," former Google and Microsoft software engineer David Auerbach cited Snowden's comments on Ars Technica as reasons he would have recruited the software engineer. Snowden's posts, under the moniker TheTrueHOOHA, revealed "a young man who's highly individualist, moralist, elitist, arrogant about his superior intellect," Auerbach said. Yes to all -- except perhaps the last, I say.
The former Googler continued: "Assuming he met the technical bar, I probably would have hired Snowden. In a field where an overlooked bug could cost millions, you want people who will speak their minds, even if they're sometimes obnoxious about it. Seniority does not grant respect or authority."
But can't you question authority without arrogance? Can you be self-assured without rudeness? Absolutely. Does seniority automatically engender respect or authority? Certainly not. But when you don't penalize or call out people for being obnoxious, does the behavior worsen? Undoubtedly. Are those polite people who care about the rest of the human race uncomfortable around this boor? Most likely. Will they leave? I know I would.
Without getting all Miss Manners, too often we mistake independence, intelligence, and autonomy as excuses for loutish behavior. Sometimes management forgives the behavior: "That's Ken's way. You know how Sally is." At other times, it's completely overlooked -- except by the bruised parties. This destroys morale and costs hard dollars -- very expensive hard dollars, in some cases.
One executive spent more than $2 million to avoid "being held hostage" by a particularly arrogant software engineer and architect, according to Peter Stonefield, president of Stonefield Learning Group.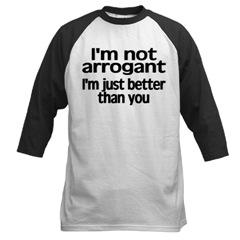 We all have occasional lapses in mood and courtesy, but full-time braggarts seldom, if ever, demonstrate any self-doubt. Their opinions are the only viable options, their choices are the only paths, and those who differ are fools who won't be suffered in silence.

It cost one well-educated job candidate a position he really wanted, wrote a placement executive. Despite a plethora of experience, the company passed. The main reason: "He came off as arrogant and we think we'd have a hard time working with him," wrote the Austin, Texas-based recruiter.

Surgeons and software developers are two fields where this arrogance often goes unchecked. Surgeons hold life and death, literally, in their hands, and a second spent arguing could result in fatality. In software development, time costs money -- but no one's heart is really going to stop if version 2.1.1 ships on Wednesday instead of Tuesday.

Sure, some entrepreneurs seem to thrive, in part due to their bigger-than-life egos. But I'd argue there are plenty -- like Sir Richard Branson -- who succeed largely because they aren't arrogant. And what about the countless startups that fail because arrogant founders won't listen to advisors, act on the analytics, or keep employees who disagree?

Enter the Superstar
But what about our superstars, you may ask. What about the developers who find every nitpicky error; who write clean, crisp code without supervision, the folk who can make devices sing? They may be great technicians, but they can't be superstars if they don't play well with others.

Blogger Mark Hoffman wrote on a FogCreek website:
I don't care if someone is the best developer in the world, if they are a prima-donna then I have absolutely no use for them. In most cases, developing software requires a team. Some developers are better than others, but all it takes is one arrogant, condescending SOB who wants special treatment to spoil the morale of an entire group. The prima-donna may be more productive, but if he destroys the productivity of the other developers, then he isn't such a bargain after all.
That's because a team is stronger than any individual. As Scott Weiss wrote in "Rehabilitating the Arrogant Engineer," even Michael Jordan couldn't win a championship until he stopped believing he didn't need the other players. "I believe building a technology company is essentially a team sport. And every wildly successful company I know is built around a core group of ridiculously smart engineering rock stars... When they can be successfully coached into working as part of a team, magic happens," Weiss wrote.
Even if the world had never heard of Edward Snowden, if he'd remained another anonymous software engineer working in the bowels of Booz Allen, I wouldn't have wanted to hire him unless he, like Jordan, learned that teamwork is more important than knowing you're always right. It's never true -- and can cost your company the real superstars, who may leave for a more appreciative environment.
Related posts:
— Alison Diana



, ThinkerNet Editor, Internet Evolution