Looking to improve medical results and enhance collaboration with developers, Kaiser Permanente released its first application programming interface (API) this week.
The Interchange open API will provide third-party developers with Kaiser Permanente's public facility and location information. This includes addresses, hours, and specialties at its 37 hospitals and 600-plus medical offices, Madhu Nutakki, vice president of digital presence technologies at Kaiser Permanente, told us.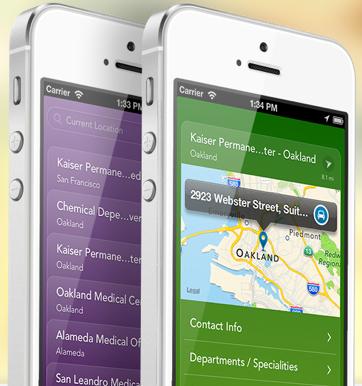 The healthcare company wanted an easy, cost-effective way to break into APIs, Nutakki said. It opted to start with a location API because it already had that data readily available.
When you look at a location API, location information is something we treasure. That is something managed by a certain group to make sure it's correct and current. It was something we didn't have to build. As that evolves, we'll start to build more.
Kaiser Permanente expects independent software vendors to create apps that tie into the API. Like other APIs, Interchange is designed to reduce development time and make it more cost-effective for third-party developers to reach the provider's network of about 4.5 million members. For example, restaurants, pharmacies, and farmer's markets could write apps that tie into Interchange and its location information.
Phil Fasano, executive vice president and CIO at Kaiser Permanente, said in a press release:
Imagine being able to download a mobile app so customized that it shows you nearby restaurants that cater to your healthy lifestyle and offers food suggestions based on the amount of activity you have completed in the last week, your nutrition plan and friends' reviews. Once you've finished your meal, a device synced to your app reports your blood-sugar levels and reminds you to pick up insulin, then tells you the nearest Kaiser Permanente pharmacy where you can pick it up. Interchange by Kaiser Permanente is the beginning of that possibility.
Nutakki said that, because of its size and complexity, Kaiser Permanente has a stringent process for creating products. The company chose Apigee's platform to develop its API.
We looked at this very deliberately, and we followed the process we had, which is very mature with a company like Kaiser. Having processes like this are super, super important. It's very similar to what we have in the mobile channel. We have a really robust channel for offering mobile apps, for example. We don't get into different channels without a lot of thinking about it.
The company will use analytics to monitor Interchange's success, and user feedback will help determine the path and focus of future APIs. Kaiser Permanente's API process has just begun.
Related posts:
— Alison Diana



, ThinkerNet Editor, Internet Evolution