Almost everyone agrees that data analytics, digital marketing, apps, and APIs will greatly affect their enterprise's results in the next 12 months. But a report suggests that not all large corporations are moving quickly to adopt these enabling technologies -- and that could seriously harm their profitability, customer satisfaction, and chances for ongoing success.
In fact, of the 200 respondents from large corporations surveyed by the Apigee Institute, 99 percent expect data analytics, digital marketing, apps, and APIs to have an effect on overall enterprise results in the next 12 months.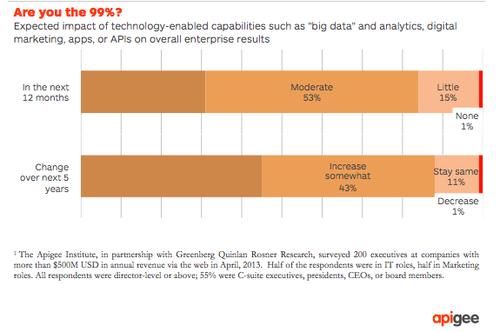 Bryan Kirschner, director of the Apigee Institute, told me:
The impact of digital was a small surprise. We expected it to be a very strong majority, but this showed us the difference between folks understanding this is a wave that's coming, a wave that's almost here and it is here. Even folks who may be struggling or not embracing it fully, appreciate the impact of the app economy.
Adopting applications, APIs, and data makes enterprises more competitive, successful, and profitable, the institute said in a report based on the survey. Large businesses that have yet to embrace digital technologies will fall further behind as early adopters reap additional benefits.
According to the report, top digital performers are:
Five times as likely as the weakest digital performers to report "strong outperformance" in bringing new products and services to market
More than three times as likely to report outperformance in gross revenue
Roughly 1.5 times as likely to report outperformance in customer satisfaction
That doesn't surprise Dan Raju, CEO of Tradier, whose cloud-based financial services business uses APIs extensively. "If you talk about an API, you have most large enterprises talking about it," he told me. "Large enterprises look at it purely from the perspective of use-cost per integration and ability to leverage capabilities that are there across the entire organization."
These benefits are only preliminary. According to the Apigee Institute study, 58 percent of top digital performers expect their company to be in a much stronger position in five years. Only 23 percent of the weakest digital performers said the same. Sixty-three percent of the marketing execs surveyed said digital technology will affect revenue over the next 12 months, and 58 percent said it will affect brand reinforcement. Fifty-four percent of CIOs predicted reduced time to market, while 49 percent expected brand reinforcement.
Sam Ramji, a founder of the Apigee Institute, told me CMOs (who represented half the survey respondents) fully understand the benefit of technology. "The preponderance of CMOs who say, 'Digital is the way to win,' was one of the things that amazed me."
Digital leaders
Kirschner cited Nike as one of the brands leading the digital way. The company interweaves data, APIs, and apps into all aspects of its business, especially its Fuel Band line. He also cited AT&T, which began its digital efforts about three years ago. It has the support of a strong leader who believes in this approach, communicates the vision internally and externally, and wanted to speed up the process of bringing new partners aboard and products to market.
Raju said Tradier chose Apigee's API platform in part because of its strong API management capabilities. There are a growing number of API providers out there, but Tradier wanted a well-established partner with years of experience. Using APIs allows Tradier to be where its clients want, whether that's on a desktop or a mobile device.
We actually provide a platform for people to innovate on. Most of our customers today innovate on our mobile space. We hardly draw a distinction between mobile or not. We assume that every platform today has a very active mobile distribution point. We have customers who do noting but mobile. The greatest thought about having… an API is it's a huge mobile enabler. I would say there is probably not a singe customer of ours who does not really have mobile on the API.
Lower barriers to entry, agility, platform independence, and speed are encouraging more large corporations to embrace APIs. Those not already researching APIs could be left in the wake of early adopters if they don't act soon.
Related posts:
— Alison Diana



, ThinkerNet Editor, Internet Evolution