Once seen as a cute virtual scrapbook where members, predominantly women, pinned each other's recipes, decorating, and clothing wish lists, Pinterest has quickly become a powerful social media sales tool for forward-thinking businesses.
Pinterest's focus on visuals combines the power of traditional catalogues with the collaboration of other social networks and the shopping muscle of online retail. Pinterest gives consumers the power to immediately satisfy their desires for stylish new shoes, handcrafted earrings, or a weekend getaway.
Business-to-business companies are uncovering Pinterest's possibilities, too, leveraging the site for increased site visits, sales, and brand recognition among prospective clients.
Pinterest is, in fact, most often used as a "destination for shopping inspiration, tracking, and product discovery," according to Bizrate Insights, which found that 69 percent of those who went to Pinterest found an item they purchased or wanted to purchase, compared to 40 percent of those who visited Facebook.
Analysis of more than 25,000 Shopify online stores found that referral traffic from Pinterest "is equal to traffic coming from Twitter. Of that traffic, shoppers are 10% more likely to make a purchase compared to those who arrive from other social sites. Furthermore, of those purchases, the average order is $80, which is double the average order from Facebook."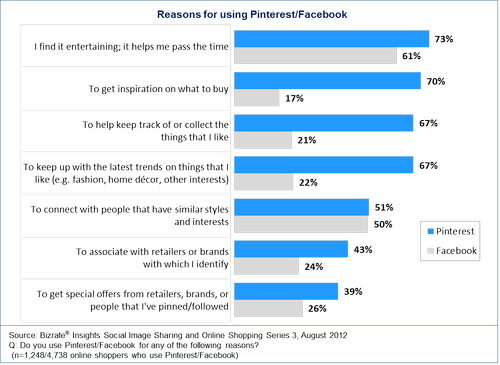 Consumer retailers have garnered the most attention, but there's another side to Pinterest that executives should consider.

In the often less visible but extremely valuable B2B space, companies are sharing infographics, e-books, whitepapers, and guides to educate business prospects and engage people. They're using Pinterest to complement their websites by displaying their products and allowing people to easily share them with colleagues or decision-makers within their organizations, and by sharing behind-the-scenes looks at their companies by introducing customers to the employees, partners, and vendors who make, deliver, or service their clients.

Professional services provider Bluewolf, for example, highlights employees' responses to the question, "Why Bluewolf?" on one of its Pinterest pages, thereby introducing its staff to clients and prospects. Its main Pinterest page also includes videos, case studies, infographics, and links to "other wolves we like." The service provider is using Pinterest to replace PowerPoint presentations for live events, according to Marketing Sherpa.

"We have used Pinterest for keynotes in several different areas. We are using Pinterest as a presentation format for keynotes, analyst briefings, PR and media relations," Corinne Sklar, Bluewolf marketing VP, told Marketing Sherpa.

HubSpot is using Pinterest for many marketing and educational tasks, including "Peek at HubSpot Software," an area of Pinterest where users can test-drive HubSpot applications for 30 days at no cost. Users get free access, and HubSpot gets contact information from these people.

"They are [also] building awareness for their conference. They are posting behind the scenes information," said Melanie Duncan, owner of Entrepreneuress Academy and Luxury Monograms, during a webinar yesterday about using Pinterest for business.

Intel's Pinterest presence includes a lighthearted look at "Geek Chic," a board with more than 2,100 followers. Federal Express demonstrates its philanthropic nature via its board on "FedEx Community Involvement," an opportunity for fun photos and showcasing the company's generosity to charitable causes.

Your company may already have content on Pinterest, Duncan said. To find out, simply visit: Pinterest.com/source/Your Company Name. A look at Internet Evolution, for example, shows that some readers have added infographics, art, and even the headshot of our very own Kim Davis. We also have our own official -- and very young -- IE Pinterest page, so stop by and pin or repin something.

Pinterest has quickly evolved from a virtual scrapbook site for bored housewives. It's a powerful ally for sales, marketing, public relations, and human resources in their ongoing battle to differentiate and be heard in the social media roar. No wonder so many companies are already pinning their hopes on this network. And many more will, no doubt, do so in the months ahead.

Related posts:

— Alison Diana



, ThinkerNet Editor, Internet Evolution