The Internet revolution will allow people to go from an "asset-heavy" to "asset-light" lifestyle, with sweeping ramifications for business, according to a state-of-the-Internet presentation from investor Mary Meeker.
All you need for many situations is the clothes on your back and a charged mobile device, says the venture capitalist and partner at Kleiner Perkins Caufield & Byers. Digital media replace albums, CDs, and DVDs. Sharing services like Airbnb and Couchsurfing can replace dedicated hotel buildings. Instead of owning a car, people can use car-sharing services like Zipcar, Uber, and Hailo. Even full-time employment is replaced by freelancing.
The digital revolution will allow consumers to get what they want, when they want it, and make it easier for "crafty and flexible people" to make money, Meeker says in her Dec. 3 presentation, posted to SlideShare and embedded on the next page of this blog post.
If this is true, it's a huge deal for businesses that are in the business of selling stuff -- retailers, construction companies, car manufacturers, and all the B2B companies that are in the supply chain serving them.
It's also potentially a huge deal for lifestyles and the environment. We've all seen reports on how much Americans consume and own (a lot) compared with the rest of the world (less). Our houses alone are much bigger than houses in the rest of the world. The Internet might be balancing that out a bit. Or it might all be just a blip. Ask me again in another decade.
There are plenty of other meaty ideas in Meeker's presentation. Such as:
Using new forms of access, people will be able to fill in the "white space" now disconnected from the Internet, including car travel: 52 minutes per day by 144 million Americans, 76 percent of whom travel alone, Meeker says. Another white space: three hours daily spent in front of TVs. As a forerunner of this change, some 50 million America households have Internet-enabled TVs.
New Internet technologies mean big changes for business, of course. In the latest example, mobile devices and tablets accounted for 24 percent of online shopping on Black Friday in 2012, versus 6 percent two years ago.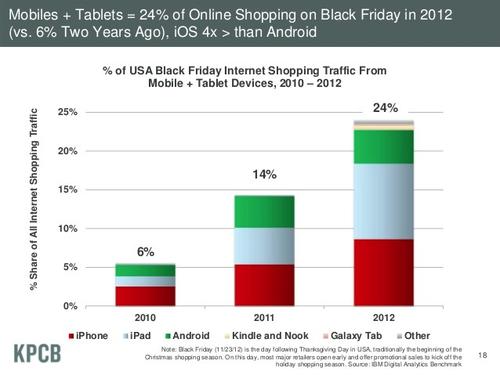 But business is struggling to catch up, in some ways. For example: Ad spending. While consumers spend 10 percent of their time with mobile devices, mobile accounts for just 1 percent of ad spending, a $20 billion US opportunity. The lag in overall Internet ad spending is much smaller: Advertisers spend 22 percent of their budgets on Internet ads, while consumers spend 26 percent of their time online.
On the other extreme, consumers spend 7 percent of their time on print, but advertisers spend 25 percent of their budgets on that medium.