Even Zipcar, a company as young as this century, has seen its business model transformed by mobile and social media during its brief lifespan. That's how fast technology is changing business.
Founded 12 years ago, Zipcar is a new kind of car rental company, a self-described "car sharing and car club service." Rather than going to a car rental location, filling out a lot of paperwork, and renting a car, Zipcar's customers simply sign up online, reserve a car parked nearby, unlock it with an RFID, get in, and go. Customers can rent by the hour or day.
When the company started, the primary way for customers to reserve cars was through a desktop Web browser, with two-way texting supported later. Now, the primary customer portal is a mobile app. This change has happened in the last two or three years, said Scott Griffith, Zipcar CEO and chairman, speaking at the opening keynote of the MobileCon conference in San Diego on Tuesday.
"Without wireless, and wireless Internet access, our business would not exist," Griffith said.
As is often the case with digital technology changes, Zipcar finds itself in the midst of some big societal shifts, Griffith said. After a century in which car ownership was central to American life, America, and the entire developed world, is shifting to ridesharing. This includes Zipcar, competing services like Lyft and Sidecar, which allow anyone who owns a car to provide taxi services; bike rental stands in cities, particularly in Europe; and apps like Uber that make it easy and relatively inexpensive for people to call car services.
Another wave of societal change Zipcar is riding is that more people are choosing urban life over the suburbs. "They're giving up on McMansion sprawl because they want what urban life can offer," Griffith said. If all these people owned cars, society and the environment would suffer. Zipcar and other urban mobility alternatives can help.
Mobility used to mean owning a car, but that's changing. "Urban mobility is becoming an app on your iPhone or Android phone," Griffith said.
This is particularly true of Millennials, numbering 79 million in America alone, and who make up Zipcar's core customer base. Millennials require new kinds of marketing, preferring to connect with brands over social media rather than through traditional media -- another fact of business that's changed over Zipcar's life, Griffith said.
Zipcar is working on several approaches to integrate smartphone apps into its cars and services. It's currently developing a tool that allows nonmembers to sign up and rent a car in minutes, simply by sending in a photo of their driver's license. Zipcar is also working on a smartphone dock that will fit in its cars, allowing drivers to use a Zipcar app -- safely -- while driving, to download playlists, get special location-based marketing offers, or get instructions on how to operate an electric vehicle (which can be a little tricky for drivers using them for the first time).
"We call ourselves a technology company that happens to own a lot of cars," Griffith said.
Griffith took the stage by driving up to it in one of Zipcar's electric cars, a Honda Fit, which he described as ideal for an urban environment. While the driving range is about 70 miles -- relatively short when compared with a conventional car with a full tank -- it's fine for urban driving, and charges in 20 minutes with fast-charge technology.
That's a photo of Griffith taking the stage below. Yeah, he drove indoors at the San Diego convention center.
Click through the photo to open a separate page with two more images of Griffith and his slides, showing some interesting statistics on Millennials and their attitudes toward cars and the Internet.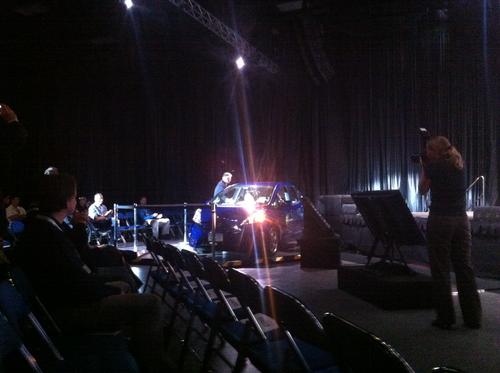 Related posts:
— Mitch Wagner




, Editor in Chief, Internet Evolution