I'm the new editor in chief of Internet Evolution and here's something you should know about me: I'm old. Ancient. I'm older than the President and almost as old as Michael J. Fox.
Internet work prizes youth and energy over age and experience. Our heroes are under 30: Facebook's Mark Zuckerberg, 28; Instagram's Kevin Systrom, 28; and Tumblr's David Karp, 26. Jack Dorsey, of Twitter and Square, looks like an old man at 35.
Older workers are supposedly liabilities because we're mired in old ways of thinking and doing things. We didn't grow up with the Internet. We don't understand the new ways. We're rotary phones in an iPhone world. (See IT Ageism in Action.)
As my odometer passed 50, I began to internalize those beliefs. I did the things that older workers often do: I revised my LinkedIn profile to be vague about my age. I said I have "over 15" years of experience, and trimmed out my first jobs. I censored the 70s pop-culture references that used to pepper my speech.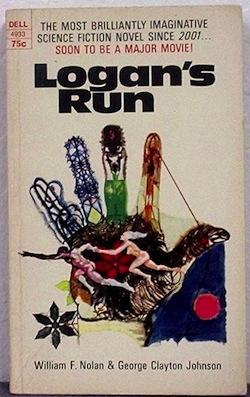 But late last year I realized I was tired of trying to distract people from my age. In the words of a million characters in action movies: I'm too old for this.
So. Hi. I'm Mitch Wagner. I'm the new editor in chief of Internet Evolution. I just turned 51 on Monday. Nice to meet you.
To contradict misconceptions about older people in the workplace, here are some realities:
We're level-headed. Hire a 22-year-old and the first workplace crisis they see is the first one they've ever seen. They panic.
Older workers know that deadly crises come along at work about once a year, and minor crises happen every week. They know better than to run around spreading a lot of panicky gossip. And they're more likely to know how to find a solution, because they're more likely to have seen similar problems before.
We have connections. Older workers know more people in the industry because we've had more time to work with more people.
We know how to reinvent ourselves. We already have. I worked on daily newspapers in the late 80s. When those jobs dried up, I switched to working at computer trade newspapers. When news moved to the Web in the 2000s, I made that switch. Now, journalism looks a lot like blogging and community management, with a healthy dose of social media activity. So that's what I do.
When not committing journalism, I've done social media marketing professionally. I'm all over Google+, Twitter, Facebook, Tumblr, and Foursquare. I play around with Instagram and I'm on LinkedIn (though I really need to do more with it). I'm addicted to my MacBook Pro and iPhone, and I love my new Nexus 7. (See An Apple Fanboy's First Impression of the Nexus 7 .) I fell in love with Second Life for a few years and I still think there's something there (although I don't know what it is). I recently got hooked on Reddit.
I used to worry that as I got older, I'd be less able to reinvent myself. Having already done it so many times, I wondered if I'd be quick enough to do it again? But now I think, sure, why not? I've got a lot of practice.
A few other things you should know about me:
I lost 90 pounds between 2008 and late 2010, and I've kept it off. Here's how I did it. I weigh 100 pounds less than my peak weight.

I use a standing desk. I'm standing right now! As I type this! Isn't that crazy? Here's what it looks like: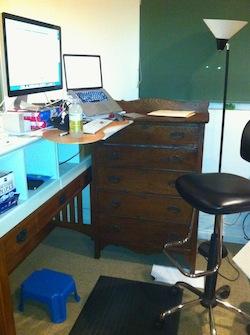 I wish I still had a full head of hair. It's not an age thing. I just had really good hair, and I didn't appreciate it while I had it.
How do you find your approach to work changing as you get older?
— Mitch Wagner




, Editor in Chief, Internet Evolution
Related posts: