Last week, I broke character completely and became a fan of rally driving and one of its stars, Ken Block.
In case you're not among the 21.5 million viewers of Block's latest "Gymkhana Five" racing video, check it out:
Amazing, no? And what's more amazing is the marketing strategy behind it. Block made this video as part of a series promoting both himself and shoe and apparel company DC Shoes.
There's a good reason why Block is self-promoting: He is part of the brand. The strategy, you see, is to engage young people with the lifestyle and sports they love, thereby attracting them to the clothing used by the athletes. The medium for doing that? The Internet.
Here's how DC Shoes parent company Quiksilver describes it in its prospectus:
Our apparel and footwear brands represent a casual lifestyle for young-minded people that connect with our authentic boardriding culture and heritage... We believe that DC's skateboard-driven image and lifestyle is well positioned within the global outdoor youth market and has appeal beyond its core skateboard base.
As a strategy, it's simple, it relies on the Internet, and it's extremely effective.
Let's unpack that: Keeping it simple means that DC Shoes and parent company Quiksilver don't draw attention to anything in this campaign but the clothing and the athletes. Take the video, for example: Shot in San Francisco over a period of four days, it's fast, fun, ferociously well filmed, and focused. Among the first and last images you see are the footwear and apparel for Block and cameo co-star dirt biker Travis Pastrana.
The city is a splendid backdrop. "We worked with the City of San Francisco to permit the use of specific areas," said a DC Shoes spokeswoman in an email to me this week. "Based on traffic flow and consideration to neighbors, we built the four-day schedule to best accommodate the goals of the production and the sensitivity of the community."
The community apparently wasn't too sensitive to Block's souped-up 650-horsepower Ford Fiesta roaring around its windy streets -- and interacting very loudly with a dirt bike operated by Block's pal Pastrana in a residential area. In fact, with a couple of exceptions, humans are virtually invisible in the film.
But the makers of this video want you to focus on Ken Block's performance and his outfitting, not the production details. If you want to know about that, you'll have to do some digging.
You may learn a bit about a film production firm called Logan Media (whose uber-hip Website is itself a statement about focusing away from the mechanics of marketing). But you won't find many specifics anywhere on the Web very easily. Clearly, DC Shoes wants you to "pay no attention to the man behind the curtain" in an effort to keep the focus where they want it.
Even finding out anything about the structure of DC Shoes itself is a challenge. Founded in 2003 by Block and Damon Way as a follow-on to a firm they'd co-founded a decade earlier, DC Shoes was bought by parent Quiksilver Inc. (which also makes sport clothing) in May 2004 for over $80 million. Block and Way are board members, but they are not involved in the running of the business. Block is considered an athlete brand builder associated with his own apparel and footwear collection.
The president of DC shoes is Anton Nistl, a veteran of action-sports products who last year described his strategy with DC Shoes as getting down to the core brand -- "skate" (as in skateboarding) -- and "building from there."
The strategy is also Internet-reliant. YouTube is the primary vehicle. In addition to numerous teaser videos, the main Gymkhana series films are featured in their own channel, with links to other sites on which Ken Block and DC Shoes are prominent. Fans can comment, click around, link up. Interspersed e-commerce pages make for easy online ordering.
It's all highly effective. Besides drawing 21.5 million views (and counting) on YouTube, the entire Gymkhana franchise of videos has garnered over 156 million views and over 7 million online "shares," according to the DC Shoes spokesperson.
Translating all that Internet activity into hard dollars isn't easy. DC Stores isn't sharing, though it's been cited informally as a $500 million company. And in parent Quiksilver Inc.'s latest earnings report, the company says DC Shoes net revenues grew 13 percent year-on-year for the three-month period ending April 30, 2012; for the six-month period ending then, net revenues were up 6 percent.
Not bad in a down economy, when luxury items are often back-burnered by consumers. And certainly a lesson for any enterprise leader interested in how the Web can spur engagement and sales.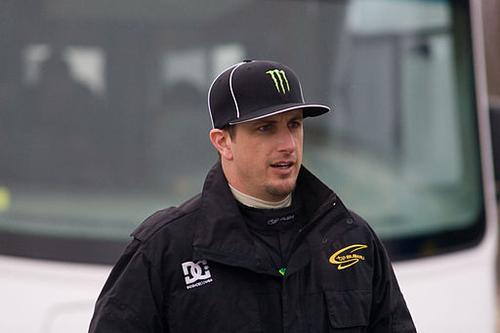 Related posts:
— Mary Jander
, Executive Editor, Internet Evolution