Seattle is typically a great place to be a software developer. The Northwestern city regularly appears on top 10 lists for tech and computer science jobs. Though it is best known as the stomping ground of Microsoft, a number of other large corporations maintain offices in the city, and Internet startups abound.
The developer-heavy population tends to be quick to adopt wearable electronics. When you walk down the streets, it is not uncommon to pass someone wearing Google Glass. Thus it is perhaps unsurprising that Seattle would play host to one of the wearable industry's first major sociological controversies. And it should serve as a warning to advocates in perhaps less technologically friendly places about the feelings this emerging technology can inspire.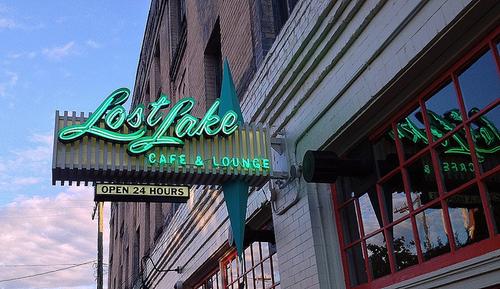 In March, Dave Meinert, owner of the Five Point Café diner, announced a zero-tolerance policy on wearing Google Glass:
If you're one of the few who are planning on going out and spending your savings on Google Glasses -- what will for sure be a new fad for the fanny-pack wearing never removing your bluetooth headset wearing crowd -- plan on removing them before you enter The 5 Point. The 5 Point is a No Google Glass zone. Respect our customers privacy as we'd expect them to respect yours.
Some customers praised the ban as an attempt to protect privacy. But even though most commenters acknowledged the restaurant was probably within its rights as a private business in enforcing the ban, many of the responses were critical. Some labelled the ban a publicity stunt. One commenter said the privacy angle made little sense, because the eatery freely allows mobile phones, tablets, and laptops, all of which typically have cameras.
But that controversy would soon be surpassed. Lost Lake Café, a 24-hour Capitol Hill diner co-owned by Meinert, made waves after it reportedly kicked out a paying customer. The restaurant tweeted: "We recently had to ask a rude customer to leave because of their insistence on wearing and operating Google Glasses inside the restaurant."
But that version of events was called into question when the customer revealed himself in a public Facebook post (since made private) to be Nick Starr, a developer and Lost Lake regular who did not have a reputation for rudeness. Meinert responded to the post:
Nick -- we like you, just thought it was understood that wearing Glass inside makes others uncomfortable. We're not anti-Glass, they are useful in all sorts of ways. We just think there should be some rules around them. Sorry for the hassle. Please respect others.
Meinert offered to buy the frustrated wearable owner a beer for his troubles.
The story and criticism grew as another Lost Lake co-owner, Jason Lajeunesse, offered a hostile comment about Starr and Google Glass owners in general. "Right or wrong, there's no way we'd fire one of our employees for something like that," Lajeunesse wrote in an email to Forbes. "We'd much rather 86 an entitled-acting tech nerd."
A business owner calling a patron a nerd smacks of school bullying and is questionable to say the least. But that was not the end of the rancor. The Lost Lake Café's Facebook page became inundated with outraged commenters. "You lost my business and probably dozens of my friends will be boycotting your establishment," one commenter wrote. "Learn how the technology works! What if I wanted to take a picture of my food… Idiots." (Lost Lake or the commenter appeared to delete the comment, but a cached version can be found here.)
Another disgruntled patron said the diner was practicing a double standard, because it had multiple security cameras that filmed patrons. Rather than backing down from his personal attacks on tech-toting customers, Lajeunesse doubled down. He posted a reply telling Glasses owners to "just shut up and get out before you make things worse."
Some have said the restaurant may be afraid Google Glass wearers will be able to document poor service or unsanitary conditions (like the glasses-camera wearers on Food Network's Mystery Diners). Prior to the Glass controversy, the Lost Lake had multiple complaints on Yelp regarding slow service, rude staff, and (in a couple of cases) food poisoning. Other reviewers had positive experiences, but at least some staff members seemed to be rubbing customers the wrong way.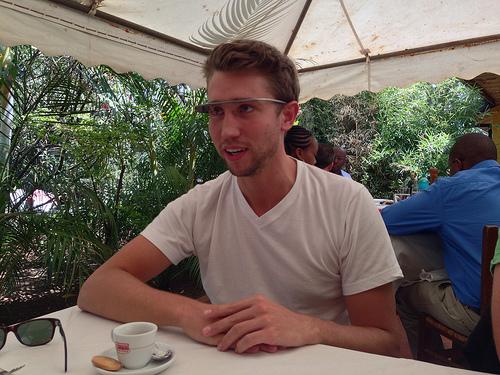 This saga raises interesting questions about Google Glass and privacy. I would say the smartphone/tablet/laptop analogy and the restaurant's use of security cameras are interesting but rather weak arguments. These are somewhat different usage scenarios. I believe the best analogy to Google Glass in terms of performance lies between your ears -- the human brain.
Most of us can see and hear the world around us at all times. We can store images of things we see for later recollection. Human memory and vision vary, but I'd assume Google Glass will generate a somewhat crisper, more accurate image of a certain location when it's set to log LifeBits -- record video of your daily journeys. But it lacks the rich contextual search capabilities of human memory.
I'd argue that Google Glass does not represent a privacy risk. Any snooping, voyeurism, or other such violation you could carry out with the device could be carried out by simply observing your surroundings with your biological senses and perhaps writing notes or sketching drawings afterward to assist your recollection.
It's a foolish business decision to turn away paying customers. The propagation of fearful, Luddite-leaning misconceptions about wearable technology may lead some to believe such bans protect privacy, but this impact is largely imagined.
At the same time, you don't need Google Glass -- not nearly as much as your smartphone, even. If a restaurant you likes decides to ban Glass, I'd urge you to be respectful and not overreact. The same suggestion applies doubly for management, who should know the customer is always right. At the end of the day, much of what ballooned Lost Lake's Google Glass ban into such a headline-worthy issue was not the ban itself, but the manner in which management conducted itself.
Were it not for Lajeunesse's remarks, many would have had much more sympathy for the restaurant's decision. But when you're co-owner of a restaurant with a reputation for poor customer service, and you make multiple insulting comments regarding a regular customer and potential customers, you no longer appear resolute. You appear to be a childish bully.
Related posts:
— Jason Mick is senior news editor at the independent tech news site DailyTech.