Researchers at the University of Cambridge are looking to make the Internet more efficient by eliminating servers as bottlenecks and possible points of failure.
A prototype has been developed as part of a European Union funded project called Pursuit.In the Pursuit Internet, users would be able to obtain information without needing direct access to the servers where content is stored.
Instead, individual computers would be able to copy and republish content on receipt, providing other users with the option to access data, or fragments of data, from a wide range of locations rather than the source itself.
It's an extension of the peer-to-peer model used by services such as BitTorrent to distribute content ranging from pirated copies of the latest movies to legitimate open source software distributions. Similarly, projects such as Folding@Home and SETI@home attempt to solve computationally intensive scientific problems by spreading the compute load over ordinary PCs and mobile devices all over the world.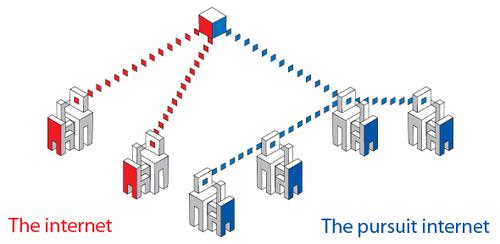 The idea behind Pursuit Internet isn't new. I first heard it soon after BitTorrent launched -- and started fighting a shady reputation -- in 2001. But accomplishing the idea would be a powerful change for the better, going a step beyond cloud computing.
The Internet would be faster, more efficient, and more capable of withstanding surging global user demand (in other words no more Fail Whale. Information would be nearly immune to server crashes, and users would be able to better control private information online, researchers say.
Dr Dirk Trossen, a senior researcher at the University of Cambridge Computer Lab, and the technical manager for Pursuit, said: "The current internet architecture is based on the idea that one computer calls another, with packets of information moving between them, from end to end. As users, however, we aren't interested in the storage location or connecting the endpoints. What we want is the stuff that lives there."
"Our system focuses on the way in which society itself uses the internet to get hold of that content. It puts information first. One colleague asked me how, using this architecture, you would get to the server. The answer is: you don't. The only reason we care about web addresses and servers now is because the people who designed the network tell us that we need to. What we are really after is content and information."
The researchers' goals go beyond making the Internet more resilient, though. They want to make the Internet structure more reflective of the way society is structured, rather than the way engineers think information should be structured when an application is designed. For example, this video illustrates how Pursuit Internet can help people secure personal health information:
Related posts:
Clouds – & Data – Can Evaporate
— Mitch Wagner, Editor in Chief, Internet Evolution

The ThinkerNet does not reflect the views of TechWeb. The ThinkerNet is an informal means of communication to members and visitors of the Internet Evolution site. Individual authors are chosen by Internet Evolution to blog. Neither Internet Evolution nor TechWeb assume responsibility for comments, claims, or opinions made by authors and ThinkerNet bloggers. They are no substitute for your own research and should not be relied upon for trading or any other purpose.

previous posts from Cloud Clan Editor's Blog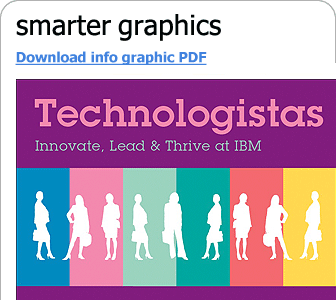 an IBM information resource


an IBM information resource

Expert Integrated Systems: Changing the Experience & Economics of IT

In this e-book, we take an in-depth look at these expert integrated systems -- what they are, how they work, and how they have the potential to help CIOs achieve dramatic savings while restoring IT's role as business innovator.
READ THIS eBOOK


your weekly update of news, analysis, and
opinion from Internet Evolution - FREE!
REGISTER HERE



Wanted! Site Moderators

Internet Evolution is looking for a handful of readers to help moderate the message boards on our site – as well as engaging in high-IQ conversation with the industry mavens on our thinkerNet blogosphere. The job comes with various perks, bags of kudos, and GIANT bragging rights. Interested?

Please email: moderators@internetevolution.com