Precor, a manufacturer of exercise machines, is opening a developer portal so that third-party applications can access individual exercisers' information in real time in the cloud.
Precor isn't exactly a household name. If you know the brand, it's probably from staring at the nameplate on your exercise machine as you grind out the miles. Precor is one of the top three makers of fitness products for the commercial marketplace and home use.
Using the Preva cloud app, which Precor rolled out in 2010, exercisers can log onto their machines anywhere in the world and see their own, customized workout routines, logs, and entertainment choices.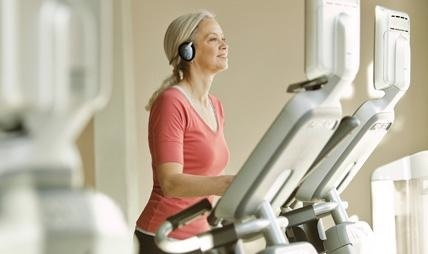 Now Precor is going further and opening the Preva Developer Portal, a set of APIs to allow app developers to access fitness data from Precor's cloud. For example, an exerciser's fitness-tracking app on the iPhone or Android phones would be able to update automatically after a workout using a Precor machine without the user having to do anything.
Clubs that buy Precor machines would be able to connect those machines with Web portals to allow exercisers to track their workouts automatically, get updates from clubs and trainers, and compete with other exercisers, said Dave Flynt, Precor director of user experience, said in an interview. One developer, EveryMove, is building a rewards program tied to exercise.
Precor said in a statement:
Facilities use the open API to incorporate real-world Preva exerciser data into their offerings. With development, they can hold Preva achievement badge contests, where top earners are highlighted on Facebook or Twitter. They can create a "calories burned tracker" for their website and hold metrics-driven contests such as "distance traveled" programs to encourage longer, more productive workouts in the gym. Mobile app and other online health services, such as those tracking activities like running or cycling, nutrition and other wellness criteria, can sync Preva exerciser data with their own solutions to improve the accuracy, applicability and value of their quantified self services.
The APIs will be available to anyone "One of the values we have by making the API publicly available is we can begin to understand how others find value in serving exercisers," Flynt said.
Precor protects privacy and security by allowing exercisers to control access to their data themselves, using OAuth authentication. While the APIs are public, app developers will need to get credentials from Precor to access data.
Precor doesn't charge either exercisers, app developers, or exercise clubs for access to the cloud. "Our model is still about selling and making revenue off the cardio and fitness equipment sales. It's not the way it used to be, where a customer buys a piece of equipment and sets it up and plugs it in and comes back in four or five years. Exercisers have feature expectations they use when working out. They want the ability to surf the Internet and get information personalized."
Customers are driving old-line businesses to become technology companies. Precor, which makes exercise equipment for health clubs, hotels, and homes, leads this trend.
We wrote about Precor in May, describing how the company got into the cloud business: "Exercise Equipment Maker Gets Fit With Cloud."
Precor made its bones through industrial and mechanical design, as well as mechanical and electrical engineering. But it's become a software developer and cloud application provider. Building Preva required Precor to staff a 50-person software development department.
Flynt agreed that customers are driving transition of non-tech companies to technology. "It's almost inevitable. As consumer electronics, mobile apps, and the cloud environment provide more ability to individuals, that capability moves over into areas that didn't used to have it," he said.
He compared Preva to the technology connecting cars. Car companies used to advertise engine displacement and power. Now, the companies market their vehicles' connectivity. "Instead of power, it's Pandora."
"Precor started on this path about five years ago, knowing that we were going to be required to deliver capabilities that we were not traditionally required to do," Flynt said.
He added, "Providing cloud-based personal fitness systems is not the way Precor got into this business. But it's certainly how we're in this business now."
Related posts:
22 Great Apps for Your New iPhone 5
— Mitch Wagner




, Editor in Chief, Internet Evolution