Churches that use cloud technology have much more engaged constituents and benefit from increased giving, according to a recent study. However, they're looking for better efficiency and stewardship of funds.
Intacct, which makes cloud financial management and accounting software, surveyed 1,000 churches of all sizes. More than 78 percent of the respondents said they use financial management software, and more than 65 percent use membership management software. However, churches still lag in technology adoption in one key function. Only about 36 percent leverage an online giving system.
That is a shame. Intacct said in a press release, "Churches using cloud technology to support online giving were much more likely to experience increases in giving by their congregation (75%) compared with those not using cloud technology (18%)."
Not surprisingly, churches with a weekly attendance of more than 1,000 are leading the way in the use of cloud-based systems. More than 80 percent of survey respondents from churches that large have adopted the cloud, but 55 percent of respondents from smaller churches also use at least one cloud system.
"Churches of all sizes are still searching for ways to increase efficiency and improve stewardship of funds," Intacct said. Many respondents said their system requires manual processes to track program and ministry outcomes and giving metrics. Others said their system doesn't support such tracking at all. "In fact, nearly 40% of respondents listed struggles with spreadsheet and manual processes as the biggest pain points of their current financial system," Intacct said. "That was followed closely by reporting and the lack of anytime/anywhere access to data."
For more information, view the survey results as an infographic.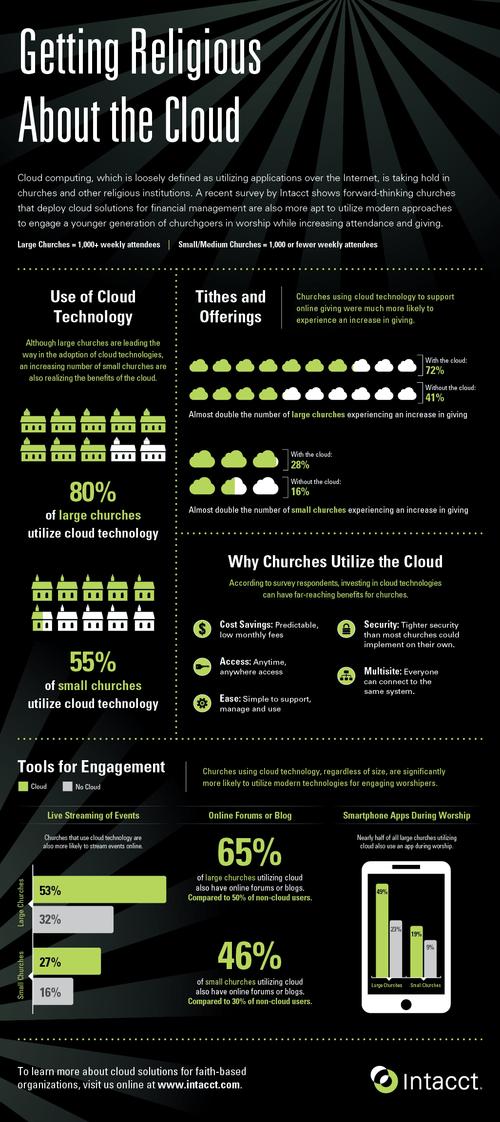 Related posts:
— Mitch Wagner




, Editor in Chief, Internet Evolution