China-based PC-maker Lenovo Group Ltd. (Hong Kong: 992) probably didn't pay all that much for 12-year-old cloud client software maker Stoneware Inc. But this could be one of the most important purchases the hardware vendor makes this year.

In an announcement Tuesday, Lenovo said the acquisition of Stoneware, including all 67 employees in Carmel, Indiana, and Salt Lake City, Utah, won't materially affect its finances once the deal is finalized by the end of this year. Still, Stoneware's cloud client software will enable Lenovo to offer consumers and businesses a cloud service akin to Apple's iCloud.

Presently, Stoneware specializes in software comprising of "a desktop inside a Web browser," which provides a secure interface to private or hybrid cloud applications for a variety of customers in government and education, including Manhattan Community College, Indiana State University, Indianapolis Public Schools, Wheeler Machinery, and Estridge Companies. The software runs on physical or virtual servers in any datacenter. The company claims to have over 10,000 customers, using more than 5 million distinct seats.

For the last couple of years, Stoneware has partnered with Intel and Lenovo to create a secure access interface for Lenovo devices, including tablets and smartphones, competing against the likes of Citrix and VMware. Clearly, the partnership proved successful enough to lead to the acquisition.

Perhaps the most interesting aspect of Stoneware's approach is its ability to use a single cloud interface to support secure application management across multiple iOS and Android devices. BYOD is a capability Stoneware has marketed using the term "Unified Cloud" computing. It's also possible to extend the interface to incorporate SaaS offerings from multiple providers.

Stoneware spokesman Greg Tan wrote me in an email yesterday:
Unified Cloud computing is providing anytime, anywhere access to people to their files, applications and reports, whether those devices reside in their own private data center, the public cloud and the local device. This is accomplished through an HTML5 webDesktop that gives users a simplified, common experience across devices.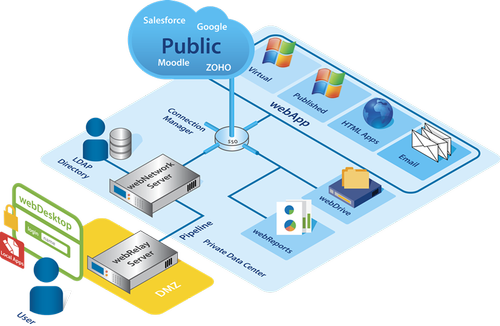 During a tradeshow interview last year, Stoneware's co-founder and CEO Rick German put the firm's approach this way:
We think, along with Intel and Lenovo, that the client has a role in cloud computing. As you look at organizations that are trying to move from a client-centric to a very cloud-centric world, we're going to have to have one foot in the client and one foot in the cloud.
There are some downsides. The chief one, according to Rick German's interview, is that enterprises are struggling to understand the BYOD situation. It's still a fairly new pitch to offer a common cloud client when not every enterprise is convinced of the need to support many devices.
As it hopes to prove to businesses and consumers with this purchase, Lenovo is up to the marketing challenge.
Related posts:
— Mary Jander
, Executive Editor, Internet Evolution