Cloud service providers have done a great job hyping the concept of cloud computing -- so much so that many Americans think cloud computing is important, even though they don't know what it is.
At the same time, cloud marketers and corporate IT had best get busy explaining the facts about clouds to users, because many would-be enterprise customers are also following the herd when it comes to negative beliefs about cloud services.
In a survey of 1,000 American adults, just 16 percent associated the term cloud computing with what it actually is -- in the survey's words, "a computer network to store, access, and share data from Internet-connected devices."
The rest of the respondents really can't say what cloud computing is -- to the point that a full 51 percent of respondents believe severe weather would interfere with their use of cloud services.
At the same time, though, 68 percent of those surveyed believe the cloud has economic benefits.
Many users who don't understand the term have lied about their ignorance, often at work. Here's how Citrix's public statement puts it:
One in five Americans (22 percent) admit that they've pretended to know what the cloud is or how it works. Some of the false claims take place during work hours, with one third of these respondents faking an understanding of the cloud in the office and another 14 percent doing so during a job interview.
But one of the most interesting findings was that even though 54 percent of those surveyed claim not to be using clouds, 95 percent of that segment actually are using these services for online shopping and banking, social networking, photo storage, and file sharing.
Less humorous is the fact that the same group, despite being ignorant of their use of clouds, claims to have reservations about cost (34 percent), security (32 percent), and privacy (31 percent).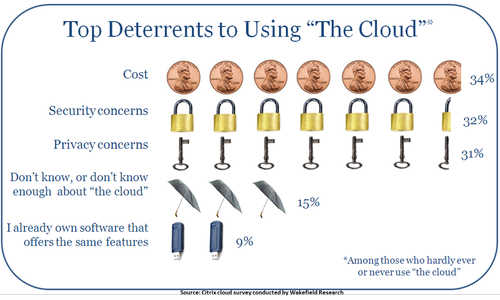 All this has a couple of potential enterprise implications. First, marketers need to go beyond just making cloud computing a catchy term with positive connotations. And IT must do its part to educate users about the realities of the technology.
Unless vendors and enterprises start taking these steps, adoption of clouds could be stalled by ignorance or fear, despite the unprecedented vendor coup that has already added the term cloud computing to most Americans' vocabularies -- even if they don't know what they're talking about.
Related posts:
— Mary Jander
, Executive Editor, Internet Evolution