If your organization hasn't looked at cloud services as a way to manage data storage, you may want to change that. Clouds offer an alternative platform for data that mitigates the costs of managing it through its lifecycle.
Take archived data, for example. News of Amazon's new Glacier archiving service last week illustrates how IT pros can trade access speed for cheap residence in Amazon's cloud for data that's no longer in regular use but can't be destroyed.
Glacier demonstrates one way clouds can help IT to adopt a modern approach to data management. "Part of stretching budgets for organizations of all sizes is to avoid treating all data and applications the same," wrote Greg Schulz, senior advisor of the Server and StorageIO Group, in a blog last week. "This means classifying and addressing how and where different applications and data are placed on various types of servers [and] storage..."
According to Schulz, an example of how clouds can be used to augment what he calls enterprise data modernization might be using an archiving service like Amazon's Glacier in the place of the archive cloud in the illustration below.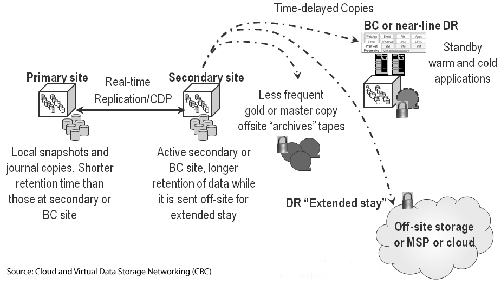 The only problem, Schulz says, is that cloud providers won't be much help to enterprises that need guidance in determining what to store where. "By themselves, most cloud providers have so far been lacking in awareness tools that can be installed into a customer environment to gain insight into usage and activity information to help guide what storage tier or service class to use," Schulz wrote in an email to me. Right now, cloud vendors expect customers to know up front what kind of storage service they need and for what type of data.
But he envisions a better world: "Like traditional storage vendors, there is room for cloud storage providers to partner with existing SRM and storage reporting tool vendors to help provide more insight into those environments."
Clouds help enterprises save costs in a range of ways. There's the usual capital and operational savings, which is sometimes questionable. But a "pay as you go" model helps keep storage costs manageable. "Cloud has moved past purely server virtualization and now includes virtual storage networks," wrote Mary Shacklett, president of IT consultancy Transworld Data, in an email to me. "This gives sites the option of pay-per-use storage models in the cloud, so they can reduce their former 'commodity spending' on physical storage resources."
Mary refers to the traditional approach IT took when more storage was needed to accommodate data or to improve throughput: buy more disk.
Like Greg Schulz, Mary Shacklett sees cloud service providers learning as they go. While not quite offering tiered storage as a service, cloud providers are using that approach in their own networks: "Optimized cloud storage facilities also use tiered storage management that correctly places resources in either faster access storage like solid state disk (SSD) or slow access drives (SATA) based on traditional hard disk drives (HDD)."
It's early days, but cloud services are moving into place to help enterprises manage data more efficiently, wherever it happens to be in the lifecycle of its use in the organization.
Related posts:
— Mary Jander
, Executive Editor, Internet Evolution