NASA's successful Mars landing last week produced as many questions as answers about the US space agency's use of cloud services. And it turns out initial information provided to Internet Evolution was wrong. So, in a followup interview Friday evening, NASA's Khawaja Shams, software engineer and manager for data services at NASA's Jet Propulsion Laboratory (JPL) clarified just what the agency is doing with commercial and homegrown cloud services.
The first misconception Shams straightened out is the rumor that JPL is only using Amazon Web Services to process information from Curiosity and other missions.
"JPL strategy, as defined by our chief technology officer Tom Soderstrom, is to use the right cloud for the right job," Shams told us. Over the last several years, JPL has used cloud services from Microsoft, Google, Lockheed, and many others in its Mars and Earth sciences missions, he notes, and that use of various services continues.
So, contrary to what IE was told last week, clouds were and are used in Curiosity, not only for delivering images to the general public, but to support JPL's research.
Indeed, the two deployments are purposely intertwined. "Every image from Mars uses the same pipeline," Shams says. The cloud that scientists use for research is the same one that provides Mars images to the general public. The goal is to provide the public (and taxpayers) with the same information the scientists are getting from the Curiosity mission.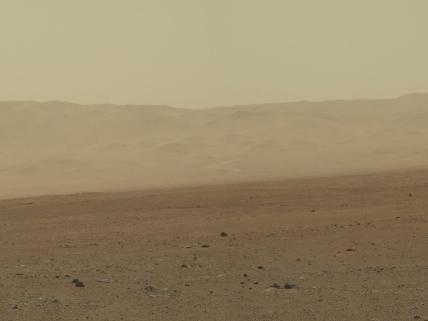 Shams also cleared up another misconception, namely, that NASA's Websites had collapsed under the initial traffic load of viewers. "A small percentage of people got an 'unavailable page,' then got it back," he told me. He said that thanks in part to having 100 times the capacity they had during last Mars Rover mission, Curiosity's image servers are set up to withstand "a dozen datacenter failures" -- just in case NASA's datacenters had failed, which, of course, they did not.
Finally, Shams explained more about the Airborne Cloud Computing Environment (ACCE) portal that is in development at JPL. It turns out it will be a custom interface built atop AWS, not a replacement for it: "We are not competing with AWS." The portal was initially developed for use with JPL's Earth science mission to delve into arctic carbon activity in Alaska.
(A public affairs spokesperson at NASA told me, by way of explanation for last week's misinformation, that the agency has been overloaded with media requests. Of course, that's no excuse for providing incorrect information, NASA!)
Related posts:
— Mary Jander
, Executive Editor, Internet Evolution