Cloud storage has officially hit the enterprise, and Box.net (excuse me, now the "correct" name appears to be just Box) is leading the charge.
The seven-year-old startup just announced a stunning investment round of $125 million, bringing total funding to date to $287 million and Box's approximate valuation to $1.2 billion.
Of the round, $100 million came from General Atlantic (GA), an investment company that claims $17 billion in capital under management and has made past investments in the Alibaba Group and Facebook. Gary Reiner, GA operating partner and former CIO of General Electric (GE), will join Box's board.
Other investors in this round include Bessemer Venture Partners, DFJ Growth, New Enterprise Associates, SAP Ventures and Scale Venture Partners, and Social+Capital Partnership. Apparently, earlier investor Salesforce.com, along with some others (who hasn't invested in Box?), sat this one out.
Box also has managed to get a bundling agreement with HP.
The money will solidify Box's hold on the enterprise market, which Box started to focus on seriously in 2007. In the first half of 2012, the vendor says enterprise sales increased 200 percent year-on-year, and average deal sizes nearly doubled. The firm claims that 125,000 businesses are using box, along with 11 million individuals.
Levie stated in today's blog:
When we started Box as an all-purpose cloud storage solution in 2005 and later narrowed our focus to serving businesses in 2007, we had a hunch that the opportunity was big. Now, years later, we're truly realizing just how vast and important the market is for helping businesses of all sizes to manage information and collaboration in the cloud.
In a blog, co-founder and CEO Aaron Levie outlines the firm's strategy:
The confluence of mobile, social, and cloud technology is changing how businesses of all sizes manage their information and where they can access their data, challenging longstanding enterprise software status quos in the process... Our mission is to build the simplest way for users to share and manage content, on a secure platform that businesses trust.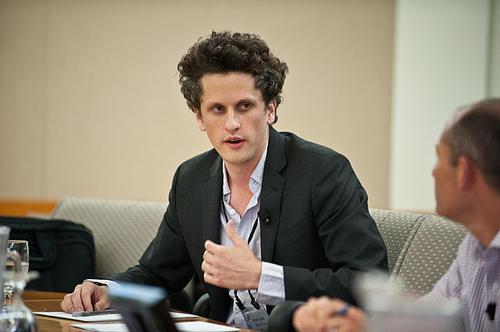 The strategy isn't new to Box, which took an enterprise focus in 2007 and reiterated its emphasis on using mobile as key to reaching businesses when it took a round of funding in 2011.
This week, Levie said Box will focus not just on storing data in the cloud but on allowing it to be shared by mobile, tablet, and other "post-PC" users. Box also will create "all-new ways to interact with and collaborate on content."
Levie says Box is also going to expand internationally. Box gets 20 percent of its revenue from outside the US, he notes. The company's recent European expansion was just the start, he says.
All great plans, which should help Box differentiate itself from competitors like Amazon, Google Drive, and Dropbox, to name just a few.
So when's the IPO? No date is set, according to a company spokesperson. "Box's growth and the market will determine the timing."
PS: Unlike us, Levie reportedly thinks Zuck's hoodie was appropriate for pre-IPO meetings. So we'll be eager to see what he wears when the time comes.
Related posts:
— Mary Jander
, Executive Editor, Internet Evolution