Problems with contracts could hold up the spread of cloud services in Europe, according to a recent European Commission (EU) announcement, which makes a case pertinent to other places, too.
The EU says cloud service providers in Europe are making it tough for customers to trust them. And if something happens, contract terms make it difficult to get reimbursed for lost or compromised data.
Here's one of the EU's statements, published by Reuters last week, after the media outlet obtained a copy of a policy statement due out this fall:
The complexity and uncertainty of the legal framework for cloud services providers means that they often issue complex contracts... or agreements with extensive disclaimers... Contracts often do not accept liability for data integrity, confidentiality or service continuity.
The same could be said of cloud providers elsewhere, even in the US, which reportedly is most advanced in terms of cloud adoption. As IE contributor Mary Shacklett pointed out recently, enterprises everywhere are still nervous about cloud security, particularly when it comes to public clouds. A high-profile Amazon outage hasn't helped matters.
The EU is intent on eliminating some of the disincentives to cloud computing in Europe, because the market for services is predicted to be so lucrative, growing by double digits annually.
"At a time when we need growth, we need jobs, and we need more efficient public services, the cloud is something we should be getting excited about," Neelie Kroes, EU vice president in charge of the agency's digital agenda, said in a speech last month.
Kroes noted that it's tough to determine who's responsible for data reliability and protection. "Currently the situation is pretty confusing... National case law diverges -- resulting in a good deal of uncertainty. No wonder 90 percent of cloud users wouldn't know who is legally liable in case of a cross-border problem."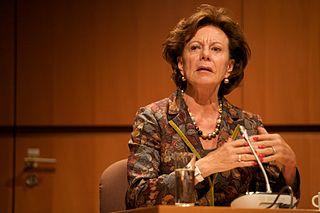 To get things going in the right direction, Kroes has been advocating a series of EU policies around cloud computing. In addition to the issue of contracts, the EU is also scrutinizing copyright, data protection, and governance in cloud services.
If these policies are approved, they could provide impetus for further growth of cloud services in Europe. They could also boost the adoption by cloud vendors of the so-called model clauses the EU has laid out as a way of standardizing the handling of data by service providers. Microsoft now supports these EU model clauses in its service contracts. Google also recently pledged support.
For Kroes and other advocates of cloud computing, it's important to lay out clear terms for buyers and sellers of cloud services. "You shouldn't need a law degree to buy cloud services," Kroes said in last month's speech. "It should be easy to know what you're getting."
That's great advice for all of us, no matter where we live and work.
Related posts:
— Mary Jander
, Executive Editor, Internet Evolution