Focused on job creation? Vote for cloud computing.
While the Presidential primary race rages stateside, that's the message from IDC , via a newly published whitepaper sponsored by Microsoft Corp. (Nasdaq: MSFT). The basic premise of the study -- no surprise, given Microsoft's vested interest in clouds -- is that cloud computing is a job-creation machine, set to add millions of jobs worldwide over the next few years.
The reason cloud computing will so expand the number of jobs? IDC states: "The basic rationale for job growth is that IT innovation allows for business innovation, which leads to business revenue, which leads to job creation -- a premise that is not unique to this study."
In all, IDC estimates that cloud computing (both public and private) added 1.5 million jobs across all industries around the world in 2011, a figure that could reach 13.8 million by 2015. IDC estimates these jobs will be divided in roughly equal measure between small and midsized businesses with fewer than 500 employees and enterprises with more than 500.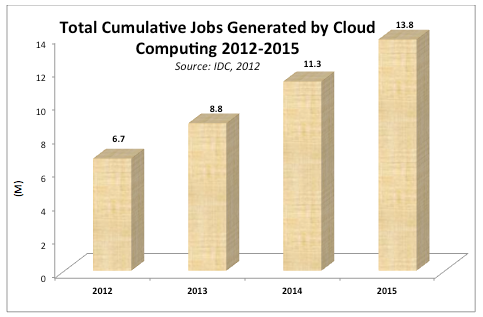 If you're with a North American company, though, you might not like to hear that IDC also estimates that by 2015, nearly half of those jobs (6.75 million or about 49 percent) will have gone to China and India. Within the US, New York City will show a disproportionate level of cloud-created jobs, thanks to demographics favorable to cloud (more on that momentarily).
Nevertheless, IDC thinks that cloud computing helped organizations in a range of sectors generate over $400 billion in 2011, a figure the firm estimates will swell to $1.1 trillion by 2015.
IDC's conclusions are interesting, but so is its methodology, which seems Byzantine:
To create a model that analyzes the role of cloud in job creation, IDC calculated the number of cloud-generated jobs by weighing several factors, including available country workforce, unemployment rates, GDP, IT spend by industry and company size, industry mix by country and city, technology infrastructure by country and city, regulatory environment, and other factors.
Oh, and IDC also spoke with CIOs. And its definition of cloud was pretty broad, including "many forms, from the use of third-party resources to store data to delivery of IT services within an enterprise based on virtualized infrastructure, self configuration, and automated provisioning."
Separately, IDC figures that revenue from public cloud services was higher than $21.5 billion in 2010 and will reach $72.9 billion in 2015. So the investment in services is clearly paying off worldwide. As a blurb on IDC's Website puts it:
The cloud movement is about much more than the cloud. Cloud cannot be sufficiently understood as a standalone phenomenon in the IT market, but rather as a core ingredient of a larger transformation of the IT industry -- and many other industries using IT to transform themselves.
Some industries will be more transformed by cloud than others, it seems. According to IDC, in the US, professional services, insurance, transportation, construction, education, process manufacturing, securities and investment services, retail, resource industries, and banking will all benefit greatly from jobs created by clouds; while communications and media, healthcare, wholesale, and utilities won't as much.
The US government, ironically, will lag all of the above -- despite efforts at the federal level to encourage cloud adoption. Indeed, government policies actually may threaten cloud growth worldwide. (See: Parting Shots From the Federal CIO and US Policy Could Squelch Cloud Services.)
So there you have it. And IDC's claims, at least in general terms, pose a provocative argument in favor of cloud adoption.
Did I mention this paper was sponsored by Microsoft?
Related posts:
— Mary Jander
, Managing Editor, Internet Evolution