R&D and innovation professionals have been longtime users of scenario planning and simulation to map out and plan for possible future developments, trends, and environments. Now, online games are becoming a more common and effective way of exploring and preparing for future scenarios and challenges relating to such diverse topics as the future of energy and agriculture.
These rich software applications are injecting fresh thought about the impact of potential innovations, and allow users to more deeply experience those advances. Games' collaborative and social elements help foster crowdsourcing and teambuilding in R&D, as well as innovation practices and communities, too.
IRI 2028, a futures initiative commissioned by the Industrial Research Institute (IRI) as part of its 75th anniversary, incorporates an online game called Innovate 2038 that takes a more open and expansive approach to scenario planning relating to the "future of research and technology management," said Ted Farrington, senior director of PepsiCo Advanced Research.
The Institute for the Future, which developed future oriented games such as Superstruct, developed the online game using its Foresight engine. The game was launched to elicit input from outside the corporate R&D space. It hopes to attract players from universities, including student government labs, as well as individual inventors, and to publicize the game, Farrington said.
"Games are contributing more and more [to R&D efforts]," he said. The game will allow people to conduct more research on future scenarios for technology management and innovation by sampling user experiences. The game permits greater collaboration, allowing users to develop their ideas on future scenarios, by building on the responses of other users, Farrington added.
The game, scheduled to run online today and tomorrow (Sept. 25 and 26), will pose broader, overarching questions about the future of R&D and innovation. Questions will focus on the critical and technologies for research and innovation to solve the important challenges of the future and the benefits of open versus closed IP approaches to research and innovations, for example.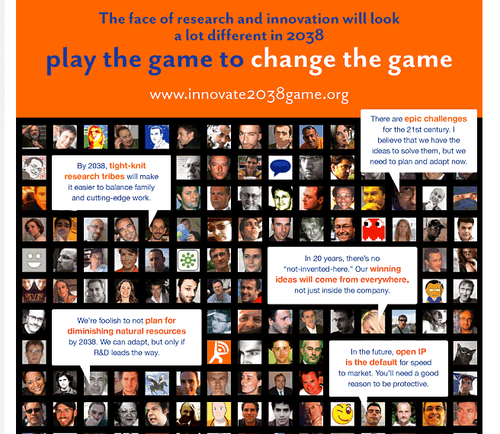 Although Innovate 2038 will itself have a short run, the event should help elicit broader insights into future R&D and innovation scenarios and practices, and help promote the value of more open online games for futurism across disciplines.

Related posts:

— Michael Mascioni is a market research consultant in digital media.