Efforts to revitalize and expand immersive theater by combining physical performance with digital content and fostering interaction between cast and audience members via digital devices have accelerated in the past few years. One of the more unusual and intriguing hybrid incarnations of immersive theater is the Theatre Jukebox, an arcade-like device that combines animation, projections, and binaural audio and plays interactive stories.
The device, developed by the UK sister-and-brother team of Lucy and Barney Heywood under their Stand + Stare Collective company, is an outgrowth of a show they staged in a tent without performers. Lucy Heywood told me her company has been trying to deliver immersive experiences through various media. It saw the potential for presenting "factual, archival material," so her company began a microresidency at the Pervasive Media Studio in Bristol to develop a prototype.
To activate the system, users place postcards with embedded RFID chips in a projector frame. The chips read the cards and trigger story sequences running 2-3 minutes. The stories are enhanced with animated and slide images, and users access audio content through headphones. "Theatre Jukebox was designed for flexible use in public places from its inception," she said. "It was intended to operate in bars and lobbies."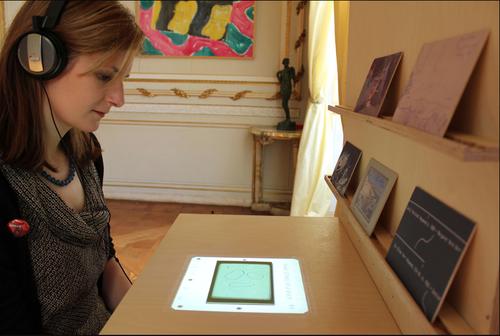 The device was first used last May on material from the siblings' family history. It was then used to present 12 cards of material from the Mass Observation Archive, an anthropological study of everyday life in the British Isles.
From January through March, the Royal Shakespeare Company's Swan Theatre in Stratford-upon-Avon used a Theatre Jukebox application combining animation, projection, and binaural audio to engage users in its plays. It used postcards inspired by the theatre's current play catalogue and its archive. Lucy Heywood said Stand + Stare also developed a Jukebox for a Croydon Museum display that ran for 20 days this year and generated 1,500 plays.
The Theatre Jukebox has produced very positive response from users and "new commissions" for the device, she said. Many users have offered their own application ideas, some of which Stand + Stare is pursuing.
The company views the Theatre Jukebox as a "platform for multiple projects." For example, the Oxford City Council recently commissioned the development a permanent version for the Oxford Museum. The Theatre Jukebox has also received acclaim at festivals; it was nominated for an interactive arts award at the SXSW Interactive Festival in Austin, Texas, in March.
The Theatre Jukebox offers an intriguing blend of low-tech and high-tech media at a relatively low cost. It is another manifestation of the trends toward transparent, organic forms of interactive media in public places.
Related posts:
— Michael Mascioni is a market research consultant in digital media.