In light of shifting trends in search engine advertising, enterprise leaders are scratching their collective heads on just how to allocate their IT and marketing budgets for 2013.
Recent developments at Google arenít helping them decide.
For years, Google has been accused of spreading itself too thin on too many different fronts. Until recently, though, Googleís stock seemed bulletproof to all the spending; the stock rose 30 percent this year.
Then came Googleís third-quarter earnings miss last week, after which its stock lost over 10 percent of its value.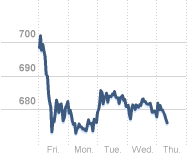 Finger-pointing and second-guessing dominate arguments about why Google's unexpected and precipitous shortfall occurred. But one thing is clear: The phenomenal explosion in mobile apps and the recent verticalization of search has put pressure on Yahoo, Google, and Bing. For enterprise marketers, advertising through traditional search products no longer deserves the attention or money it once garnered.
For example, business planners now choose to book flights and hotel reservations through vertical search engines like Hotel.com, Hotwire, Kayak, or Expedia. For the business traveler, using Yelp, FourSquare, ChowHound, or OpenTable makes far more sense than using traditional search. Of course, these sites have been around for years, but vertical fallout is just now hitting enterprise ad budgets.
Meanwhile, Internet social media companies and enterprises are scrambling to find a lucrative way to monetize the smartphone revolution through advertising. Google has done some adapting here: Larry Page announced last week that the company's run rate for mobile advertising had increased from $2.5 billion to $8 billion annually.
This is important, since for enterprise advertisers, native apps have become a vital component for B2B and B2C promotion. Marketers need to adjust their budgets accordingly to fit new development demands that include HTML5 and other technologies aimed at multi-channel, mobile device application delivery.
Search competition for Yahoo, Google, and Bing is also coming from new takes on traditional online advertising. Pinterest is driving consumer traffic directly to retailers. And according to Forrester analyst Brian Walker, 30 percent of online buyers began researching their last Web purchase via Amazon, compared with 13 percent researching a product on Google. The Forrester survey was conducted with nearly 4,000 US respondents.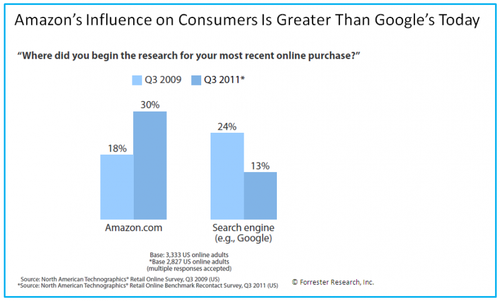 For enterprise marketers, the 2013 budget has become a double-edged sword that could lead to contention and sleepless nights deciding how to navigate an increasingly difficult and diverse Internet advertising landscape. There are more options for advertising, but finding the right balance between vertical, generic, and mobile choices may prove daunting -- particularly if budgets remain limited.
Meanwhile, it will be interesting to follow how the three search giants address the formidable challenge of vertical search and mobile apps. Expect more changes and choices.
Related posts:
— Chris Poley has been a professional trader for more than 20 years.