The month leading up to the annual San Diego Comic-Con event is traditionally thick on the ground with new announcements and product debuts across the entire pop culture spectrum. In these days of digital convergence, many of those announcements take on a distinctly tech-oriented character, especially in the white-hot market for comic-based apps and graphic e-books.
Last week, a new venture called Madefire launched with the modest goal of revolutionizing graphic storytelling for the iPad. The year-old startup lifted the curtain on an impressive publishing platform that demonstrates intriguing functionality, a creator-friendly business model, and an initial roster of diverse and impeccably-executed original content.
But is this really a content revolution or an enterprise platform in waiting?
The company's three founders -- marketing and branding veteran Ben Wolstenholme, respected comic book creator Liam Sharp, and experienced app developer Eugene Walden -- profess to share a love of graphic storytelling and a burning desire to explore the creative avenues opened up by the iPad 3 and its high-resolution Retina display.
The three initial titles that debuted with the platform last week demonstrate a range of possibilities inherent in Madefire's "motion book" format, which is basically an extension of the comic book/graphic novel to include dynamic and interactive effects:
Treatment: Tokyo, a neon-drenched cyberthriller masterminded by Watchmen co-creator Dave Gibbons and executed by Kinman Chan and Robbie Morrison, showcases the transition and animation capabilities of the platform;
Mono, by Wolstenholme and Sharp, reimagines the more traditional panel-based comic style augmented by layered graphics and a nifty immersive, navigable near-3D environment.
Captain Stone Is Missing, by Sharp and Chris McCormack, mashes up various storytelling techniques and visual styles in service of a postmodern superhero story.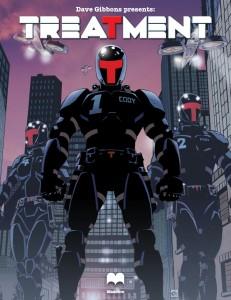 All three strike the right balance between over-the-top wow-effects and good old fashioned narrative fundamentals like plot, pacing, characterization, and dialogue, though they sometimes feel as much like proofs of concept as stories to be taken at face value.
Some might say that the bells and whistles of the Madefire platform are just an update of the kind of multimedia experimentation that's been going on around comics since the 1990s. Maybe so, but quality makes a difference. The initial set of Madefire motion books are as cool and smooth as glacier ice, and the graphics are practically a benchmark test for the iPad's high-res Retina display. In this case, looks kill.
The company seems as eager to please creators as consumers. Madefire includes a set of cloud-hosted tools optimized for geographically-distributed teams. Wordpress founder Toni Schneider, who helped fund Madefire through True Ventures, sits on the board of directors, and Wolstenholme has intimated that the company sees itself as a WordPress for image-based and graphic content.
Creator-empowerment and self-publishing are laudable goals, but they seem mismatched with the technical and content strategy on display for the launch. Madefire is no mere entry-level tool built for humble ink-stained cartoonists looking for a wider audience through digital delivery. This is an industrial-strength environment for a new kind of storytelling.
It's painfully easy for inexperienced creators to be seduced by too much functionality, or to cut corners that will show up under the glare of high resolution. Even seasoned professionals may face a learning curve in figuring out how to reimagine their craft in such a new context. Meanwhile, the publishers of most well-known comics properties already use the established comiXology technologies for content presentation and distribution, which better fit their requirements for security and scalability and do not demand that readers relearn old paper-based habits to consume the digital offerings.
So how will Madefire expand its portfolio? Inconsistent content that does not live up to the high standards set by the launch will rapidly tarnish the brand with fans and consumers, but consistency can't be guaranteed on an open platform. If Madefire is sincere in its desire to be both a vanguard of content and a self-publishing platform, it may quickly need to choose between its brand and its mission.
That's why Madefire seems destined to be a plaything of the gods of the entertainment world, not the little guys. They've built a fine mousetrap -- one that may be too good for most independent creators but is tailor-made for the emerging breed of transmedia production companies with teams of talent. They've got nothing to lose by pushing the envelope with their properties or rethinking the narrative conventions of the comic book format.
The Madfire launch is wrapped in the sizzle and hype of Comic-Con and some of the great individual voices in the comic industry, but the company's long-term business success likely lies in securing enterprise relationships with midsized to large players.
Related posts:
— Rob Salkowitz (@robsalk) is the author of several books on digital media and business. His latest is Comic-Con and the Business of Pop Culture (McGraw-Hill, 2012).