A new mobile app fuses the sizzle of celebrity, the impact of video, the immediacy of real-time live chat, and a business model that marketers can understand. Will it all hang together?
One of the electrifying aspects of Twitter in its early days was the promise of authentic real-time interaction between celebrities and their fans. Snoop Lion (née Dogg), Lady Gaga, and Shaquille O'Neal graced their admirers with their presence 140 characters at a time, helping push the community to critical mass and tipping marketers off to the promise of the platform.
But this element of Twitter quickly became a victim of its own success. Busy celebs handed accounts off to publicists and social media firms to manage, thinking no one would notice because of the text-only interface. Users felt cheated, but popular figures with millions of followers who had helped build Twitter's value had no stake in the financial success of the platform and no reason to continue keeping it real.
At the same time, an interface optimized for text-based feature phones of the mid-00s was starting to seem dated in an age of increasingly visual and video-oriented real-time communication. And Twitter, despite its massive influence, has never been the easiest nut for marketers to crack, often creating as many problems as it solves.
Where celebs fail to tweet
Like any good entrepreneur, David Swartz saw opportunity in a market gap. The one-time advertising agency creative director had jumped into mobile app development with a new venture, MEDL Mobile, in 2009. He and his partner, co-founder and CEO Andrew Matlin, were looking for a good project to focus the team's talent and resources.
Swartz, president and COO of MEDL and Hang With, told us:
We were going in a dozen different directions with jobs for various clients [including global brands like Monster.com and Taco Bell] and internal projects. But then we saw the opportunity to bring together real-time social networking and video, optimized for mobile delivery. We dropped everything else and committed ourselves to getting that product to market, because we knew it was going to be big.
The platform they developed -- Hangw/ (or Hang With) -- enables participants to broadcast three- to four-minute live video streams from any connected device. Anyone following that person receives a push notification that a broadcast has started and can jump on to interact in real-time, face-to-face. Users find people to follow through straightforward search and discovery, and anyone can broadcast anytime and try to build an audience.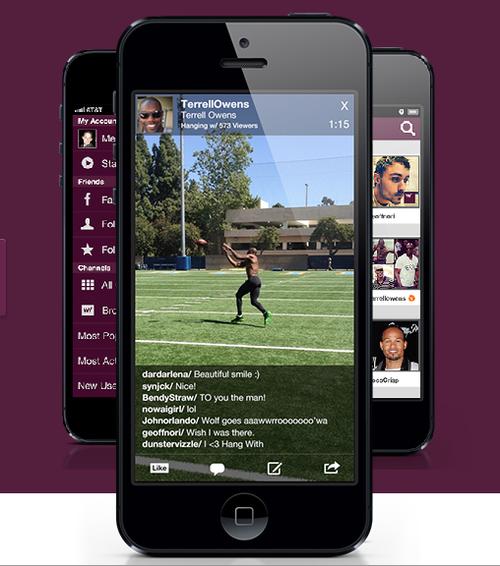 Dialing for dollars
Hangw/'s business model is as clever as its technology. The app itself, built for Android and iOS, is free to download and use, but viewing a broadcast session requires users to watch a brief sponsored video pre-roll, then a post-roll clickable banner on exiting. Swartz hinted enhanced functionality may be added, for a price.

Advertisers get the attention of motivated users and honest metrics. Popular broadcasters -- whether celebrities or regular folks who can draw a crowd -- receive a share of the ad revenue generated by their broadcast, giving them a stake in the success of the platform and an incentive to actively recruit fans. Both ends of the model point to clear value for users, clear revenue streams, and clear return on investment for stakeholders.

How's it hangin'?
Though it only debuted in March, the site has been steadily ramping up its audience with the star-power of early adopters including Chief Keef, 50 Cent, Cheech and Chong, and Paula Abdul, among nearly 100 listed on the site's "who's new?" page. It's also allowed lots of ordinary people to translate their daily routines and quirky charisma into Internet fame and a little bit of spending money.

According to the company, the app is up to 600,000 total installs, with 36 percent of users visiting Hangw/ more than 100 times. The site has served nearly 2 million broadcasts and 11 million user sessions at an average of three to four minutes. And, since I know you are wondering, they have filters in place to screen objectionable content and block accounts that are abusing the service so the site doesn't degenerate into a real-time porn network.

Toward the future
Hangw/ is one of a new generation of apps designed from the ground up to deliver a mobile experience and align the priorities of consumers, power-users, sponsors, and the owners of the platform. From a technical point of view, it was a triumph for MEDL to bring the product to market given the complexities of the system and the usual issues of figuring out the right feature set and when to call it finished enough to launch. Though Vine and Instagram have subsequently joined the party, at the time Hangw/ was being developed, there were few models of many-to-many streaming video social platforms and no guarantees the model would catch on, despite the compelling combination of ingredients.

But now the real challenge begins. It remains to be seen if it can sustain interest, scale gracefully, and keep competitors at bay through exclusive partnerships and industry relationships. Will celebrities hang in there for a piece of the action? Will users hang on or will they hang up?

Related posts:

— Rob Salkowitz (@robsalk) is author of several books on technology, business, and popular culture and Director of Strategy at MediaPlant, a digital communication firm in Seattle.