IBM Research recently patented an invention that stops mobile devices from operating code that's malicious or has been compromised.
This security advance will help businesses safeguard BYOD and improves cloud security, said Andrew Cornwall, inventor and mobile software developer at IBM, in an interview. The solution evolved after a customer asked IBM to prevent an embedded Java virtual machine from executing potentially malicious code, he said. IBM is the sole sponsor of Internet Evolution.
"It was initially developed for networked printers that had an onboard Java virtual machine. We had to find a way to ensure that only the apps specified by the manufacturer were executed," Cornwall told IE.
Over the past several months, we've been identifying broader applications for the invention within cloud environments, which is why we're talking about this now. For example, with the rise in corporate and personally-owned mobile devices entering the workplace, new security vulnerabilities have been introduced: an attacker could introduce a malicious app onto a cloud server, which employees might download and run. Our technology prevents this code from executing, keeping users safer, and provides greater control over the apps employees can download.
If an app is altered after it's been encrypted (without being decrypted and re-encrypted), IBM's secure virtual machine launcher will recognize the software was modified and prevent it from running.

Using this solution, employees will no longer unwittingly download and try to run cloud apps that could endanger their devices or network, according to IBM. With Patent #8,341,747, employees have the flexibility of BYOD; IT departments have the reassurance of knowing downloaded software remains uncompromised, the company said.

ďThis patented invention will help organisations confidently and securely embrace the advantages of a mobile workforce while remaining protected against malicious content or intent,Ē Cornwall said, in a statement. ďOur technique helps businesses prevent altered apps from running and unleashing their wrath on businesses, their networks and their customers.Ē BYOD is a critical component of leading organizations' approach to business, according to a recent IBM Institute for Business Value survey. In fact, 79% of leading businesses have well-documented policies in place for employees using mobile devices; 48% of non-leaders have these procedures, the institute found. Eighty-one percent of respondents said mobile has fundamentally changed how they do business.

To succeed with mobile, organizations must address security issues. That includes protecting data, secure connectivity, and device management, the report found. But safeguarding mobile users, devices, and data has to be simple, fast, and have little to no impact on performance to ensure employees use security solutions.

With this invention, IBM appears to have created a low impact approach that satisfies both IT departments and end-users.

Related posts:
The ThinkerNet does not reflect the views of TechWeb. The ThinkerNet is an informal means of communication to members and visitors of the Internet Evolution site. Individual authors are chosen by Internet Evolution to blog. Neither Internet Evolution nor TechWeb assume responsibility for comments, claims, or opinions made by authors and ThinkerNet bloggers. They are no substitute for your own research and should not be relied upon for trading or any other purpose.

previous posts from Security Clan Editor's Blog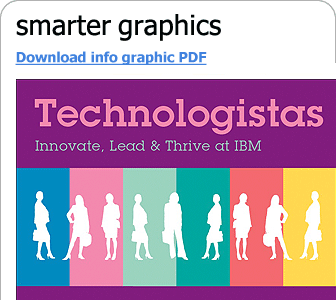 an IBM information resource


an IBM information resource

Acquire, Grow & Retain Customers: The Business Imperative for Big Data & Analytics

Find out how to use big data and analytics to change how your business interacts with customers by incorporating all sources of data to help forge long-term relationships and realize value. A holistic view of the customer, made possible by big data and analytics, ensures unique experiences and personalized communications.
READ THIS eBOOK


your weekly update of news, analysis, and
opinion from Internet Evolution - FREE!
REGISTER HERE



Wanted! Site Moderators

Internet Evolution is looking for a handful of readers to help moderate the message boards on our site – as well as engaging in high-IQ conversation with the industry mavens on our thinkerNet blogosphere. The job comes with various perks, bags of kudos, and GIANT bragging rights. Interested?

Please email: moderators@internetevolution.com