Organizations already coping with a shortage of cybersecurity experts better get used to it -- or figure out new ways to develop talent.
That is one take-away from "Preparing Millennials to Lead Cyberspace," a new Raytheon-commissioned report sponsored by the National Cybersecurity Alliance and the Department of Homeland Security. The study, conducted by Zogby Analytics, focused on 1,000 young adults, ages 18 to 26, in the US.
Becoming a cybersecurity expert is seldom on millennials' radar, the survey found. In part, that could be because 82 percent said guidance counselors and teachers never recommended the career. In part, it could be due to the allure of other, more glamorous-seeming paths: Forty percent aspire to be entertainers and 39 percent have their sights set on becoming entrepreneurs. Within the tech space, 32 percent want to be social media professionals, 30 percent picked software engineering, and only 24 percent cited a cybersecurity path. By comparison, 18 percent want to become politicians and 25 percent aspire to become college professors. Sadly -- but perhaps unsurprisingly given the ongoing difficulties of attracting women to tech careers -- 35 percent of young males versus 14 percent of young females are interested in a cybersecurity career, the study found.
Perhaps one reason millennials are relatively uninterested in cybersecurity is their apparent disregard for online safeguards. Two-thirds of these users have, for example, connected to a public WiFi network that didn't require a password in the past month. One-fifth have never changed their online banking password; 23 percent shared an online password with a non-family member, and 48 percent have plugged into a portable storage device someone gave them within the last month.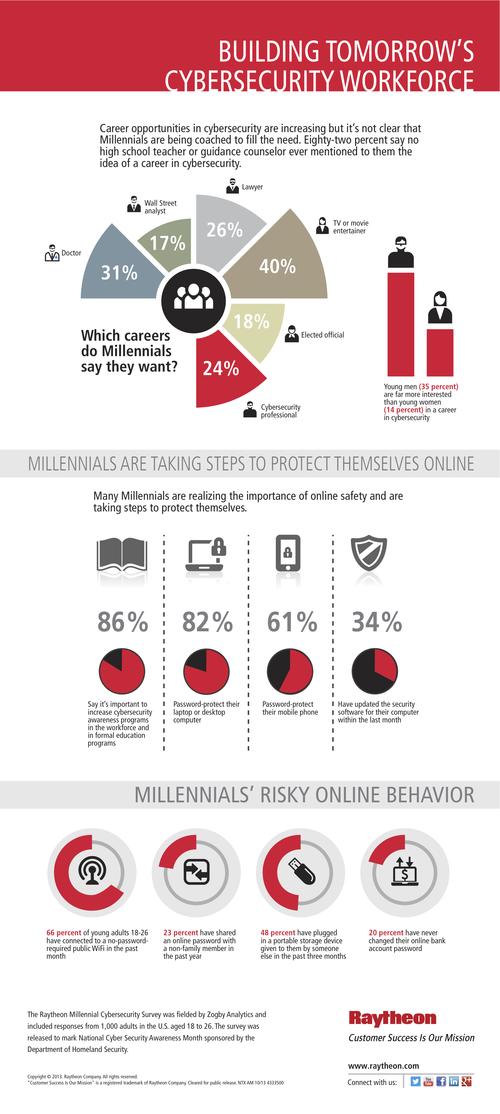 Yet 86 percent said it's important to increase cybersecurity awareness in the workforce and formal education. How are you, as an IT pro, going to do that with fewer graduates and tech employees interested in this area?

Here are some ideas:
Emphasize the opportunities: Demand for cybersecurity experts is soaring at 12 times the overall the job market, Burning Glass International reported in May. In other words, these professionals can pretty much write their own ticket. Demand for cybersecurity experts grew 73 percent between 2007 to 2012, Burning Glass told the Wall Street Journal. On average, cybersecurity engineers make $100,000; cybersecurity managers earn about $107,000, the WSJ wrote.


Capture attention: Sixty-nine percent of millennials want a job that's interesting. Cybersecurity is a constantly evolving arena that involves battling an ever-moving target, new tools, and ongoing education. Ensure security pros have access to the tools and training they need.


Train within: Find internal IT experts who are naturally interested in security, who excel at educating users on protocols, and who enjoy staying current on the skills and tools necessary to combat security threats.


Partner with educators: Volunteer at local schools' career days to discuss jobs in cybersecurity using fun visuals, videos, and social media that students relate to. In other words, leave the PowerPoint at home. Educate guidance counselors about job opportunities and work with colleges to set up (paid) internships.


Engage end-users: Make sure employees recognize the importance of security and, therefore, the people responsible for your organization's security. Keep security in the spotlight via education, apps, social media, informal meetings, and tips, giving your experts the chance to shine and gain visibility across the company.


Target the entrepreneur: Reach out to your millennials' inner entrepreneur by letting them telecommute at least part-time, work flexible hours if possible, and creating a social work environment. Make it easy to pilot programs, gather employee feedback, and collaborate -- all of which benefit the overall organization. Your cybersecurity initiatives could well become a beacon of organizational excellence for the entire company.


Outsource: Too much? You can always partner with a well-respected, proven third-party provider of security services and solutions. Just make sure they understand your business, as well as they understand security.
Millennials also want standard corporate fare -- mentorship opportunities, healthcare benefits, 401ks, and a company with a strong reputation or brand. Don't forget to accentuate these factors when interviewing younger cybersecurity experts. They're important.
What recruitment and training strategies have worked for you? Let us know in the comments.
Related posts:
— Alison Diana



, ThinkerNet Editor, Internet Evolution
The ThinkerNet does not reflect the views of TechWeb. The ThinkerNet is an informal means of communication to members and visitors of the Internet Evolution site. Individual authors are chosen by Internet Evolution to blog. Neither Internet Evolution nor TechWeb assume responsibility for comments, claims, or opinions made by authors and ThinkerNet bloggers. They are no substitute for your own research and should not be relied upon for trading or any other purpose.

previous posts from Security Clan Editor's Blog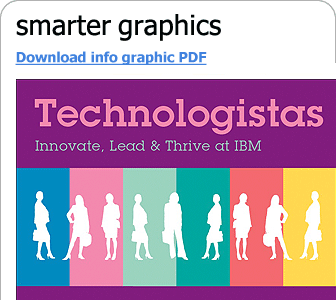 an IBM information resource


an IBM information resource

Expert Integrated Systems: Changing the Experience & Economics of IT

In this e-book, we take an in-depth look at these expert integrated systems -- what they are, how they work, and how they have the potential to help CIOs achieve dramatic savings while restoring IT's role as business innovator.
READ THIS eBOOK


your weekly update of news, analysis, and
opinion from Internet Evolution - FREE!
REGISTER HERE



Wanted! Site Moderators

Internet Evolution is looking for a handful of readers to help moderate the message boards on our site – as well as engaging in high-IQ conversation with the industry mavens on our thinkerNet blogosphere. The job comes with various perks, bags of kudos, and GIANT bragging rights. Interested?

Please email: moderators@internetevolution.com