Thereís lots of talk, a lot less action when it comes to putting together a social business plan that harnesses value from platforms like Twitter, Facebook, and LinkedIn, according to a report by the MIT Sloan Management Review and the consulting firm Deloitte.

For the second year in a row, researchers surveyed more than 2,000 executives from 25 industries and 99 countries, and conducted interviews with nearly three dozen executives and social-business thought leaders. Their conclusion: The importance of social is growing across all industries. But the emergence of socially-connected enterprises isn't fast. According to the report:
Between last year and this year, respondents from all industry sectors increased the value they place on social business. None remained at the same level. None reversed course. However, progress is slow.
How slow? When asked to rank their companyís social business maturity on a scale of one to ten, more than half of respondents gave their company a score of three or below. Only 31 percent gave a rating of four to six, and just 17 percent ranked their company at seven or above. Aptly described by Gerald Kane, a professor at the Carroll School of Management at Boston College, social business has passed "the peak of faddishness" and companies are "starting to crack socialís code and turning to it for business advantage, intelligence and insight."

Iíd put the emphasis on "starting to." Nevertheless, the report includes some surprising data about how early adopters are integrating social platforms into operational strategies.

Even more intriguing is how some companies are using social platforms to change the way work gets done. Here are three examples:
Marketing and Sales. Itís no surprise that respondents rank marketing and sales as the top two functional areas for social media. But "social selling" is becoming more sophisticated. Morgan Stanley, for example, combined LinkedIn and Twitter in a way that helps financial advisors acquire new clients and build their books of business. "People reveal life-event information like promotions on social media that can be a gateway to a financially oriented conversation," Lauren Boyman, director of digital strategy at Morgan Stanley Wealth Management, explained in the report.
To that end, Boyman said Morgan is providing financial advisors with materials (vetted by the companyís compliance organization) to help them "build up credibility and develop a trusted reputation" based on their expertise. The results of the campaign are striking. According to the report: Approximately 40 percent of participants brought in new business and one landed a $70 million account.
Supply Chain Management. Pharmaceutical company Teva began its social business program with the goal of reducing time expeditors, outside vendors and managers spend resolving supply-chain problems. The solution -- dubbed Radar -- came in the form of a Facebook-like social networking environment where employees and partners collaborate, share data, blog, and comment about problems in real time. Nadine Jean-Francois, Teva's director of supply chain management, told researchers that Radar has improved cycle time and provided greater visibility into operational issues.
Recruitment. Covance, a pharmaceutical services company, turned to Twitter as a major weapon in the talent wars. The idea was to match prospective job candidates with current employees outside of the actual hiring process. "We have learned through years of traditional recruiting that [job candidates] like to talk to others who do what they do,Ē says Lisa Calicchio, vice president of employee relations, global recruiting & diversity "They want to understand what their experience would be working here. The best people to answer those questions are the leaders in those roles."
To build those relationships, Covance recruiters work with marketing to develop content about research that company scientists can tweet out to their followers. When a position opens up, Covance follows up with a message to would-be candidates.
The flaw in this rapidly evolving social business model is how to measure success. The report, while thought-provoking, does little in the way of presenting a road map of how to tie social tools to operational and financial metrics. Even the anecdotal evidence is light on prescriptive advice.
To be sure, as the authors note, in the time it takes to read the full report, millions of tweets have been posted to Twitter, tens of millions of new postings have appeared on Facebook, and thousands of hours of new video are streaming from YouTube. What value all that activity will bring to the socially connected enterprise is anybodyís guess. Harder still, is how to measure its success.
Related posts:
The ThinkerNet does not reflect the views of TechWeb. The ThinkerNet is an informal means of communication to members and visitors of the Internet Evolution site. Individual authors are chosen by Internet Evolution to blog. Neither Internet Evolution nor TechWeb assume responsibility for comments, claims, or opinions made by authors and ThinkerNet bloggers. They are no substitute for your own research and should not be relied upon for trading or any other purpose.

previous posts from IT Clan Editor's Blog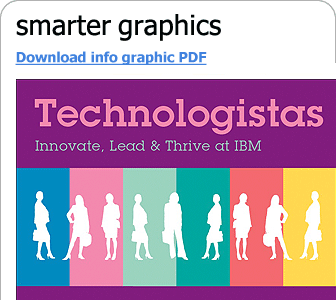 an IBM information resource


an IBM information resource

Expert Integrated Systems: Changing the Experience & Economics of IT

In this e-book, we take an in-depth look at these expert integrated systems -- what they are, how they work, and how they have the potential to help CIOs achieve dramatic savings while restoring IT's role as business innovator.
READ THIS eBOOK


your weekly update of news, analysis, and
opinion from Internet Evolution - FREE!
REGISTER HERE



Wanted! Site Moderators

Internet Evolution is looking for a handful of readers to help moderate the message boards on our site – as well as engaging in high-IQ conversation with the industry mavens on our thinkerNet blogosphere. The job comes with various perks, bags of kudos, and GIANT bragging rights. Interested?

Please email: moderators@internetevolution.com