The e-business world started turning upside-down in February and finished in April. That's when the iPhone overtook Outlook as the most popular email client, according to recent research.
We've been hearing a lot about how mobile is becoming mainstream, and businessses need to support mobile as a primary channel to customers. People call it the "post-PC era." But recent information shows that assessment is wrong. The ascendancy of mobile isn't happening. It already happened. And mobile and desktop aren't coexisting side by side as primary platforms. Mobile has become primary, and the desktop is evolving into a niche product.
The latest evidence of mobile's ascendancy to cross my desk comes from a nice-looking infographic by Litmus, an email marketing testing program. It's an old report, from June, but I discovered it this week via a blog post by MarketingLand.
The change from desktop to mobile happened fast. In June 2011, 53 percent of emails opened by users were opened on desktops, 29 percent on Webmail, and 18 percent on mobile. The three platforms converged to within a percentage point of one another in February, and then desktop resumed its lead. But by April, mobile was the clear leader, with 36 percent of openings, compared with 33 percent for desktop and 31 percent for Webmail. (Note that Webmail is relatively flat for that period.)
Here's the relevant chart, a portion of the infographic: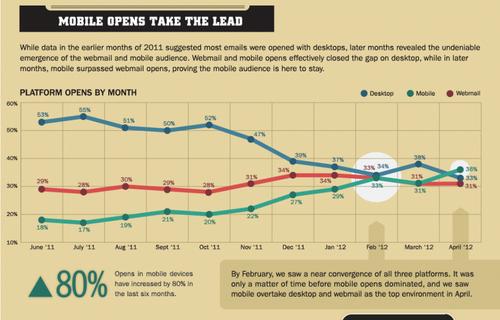 The iPhone was the No. 1 mail client, with a 20 percent marketshare. Outlook had 18 percent.
Want some more recent information? PC sales have gone "into a tailspin," according to a Wall Street Journal report Wednesday. Third-quarter PC shipments fell more than 7 percent from a year earlier -- the steepest drop since at least 2001, according to reports from IDC and Gartner. PC shipments for the full year will decline for the first time in 11 years, according to IHS iSuppli.
The WSJ blames the decline on the sluggish economy, cannibalization by tablets, and slowing sales to Third World countries. It speculates that Windows 8 might reignite demand.
But the WSJ is overthinking it.
Sluggish economy? Sure, but it's better than it was in 2008, and yet PC sales declined now but not then.
Reduced demand in Third World countries? The WSJ is getting warmer there. Tablet sales? Warmer still.
What's cannibalizing PC sales is mobile computing. Mobile is particularly in demand in developing countries. And tablets are part (but, of course, not all) of the mobile phenomenon.
The PC is becoming a niche product, like high-end workstations and mainframes. And that's the best-case scenario for PC vendors -- it's possible that the PC is simply obsolete, like the desktop electronic calculator and the minicomputer.
PC demand is in an inevitable downward spiral. Windows 8 won't ignite it. A Zippo and a bottle of lighter fluid won't ignite it. The PC is on its way out.
What this means for the enterprise is that you should stop thinking about extending your e-business strategy to mobile, because that still assumes the primacy of the desktop. Business just doesn't happen mainly on the desktop anymore. Mobile is the mainstream platform now.
Businesses that fail to learn that lesson will simply fail.
Related posts:
— Mitch Wagner




, Editor in Chief, Internet Evolution