When it comes to staffing, times are good in IT. While employment levels in other industries are uneven, there seems to be plenty of work in and around the data center -- some of it topping the charts for overall job popularity.
Still, facts seem fuzzy around which jobs are growing and who is taking them.
According to TechServe Alliance, an industry group of IT services firms, 15,000 IT jobs were added in the US in March alone, bringing the US total to 4.1 million.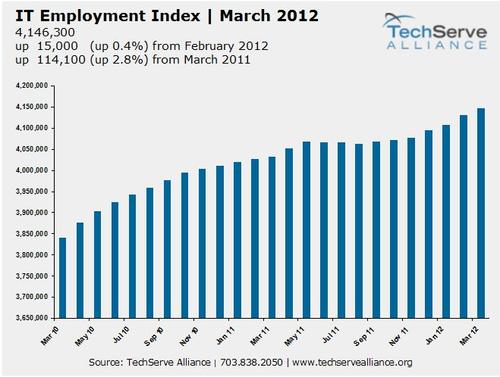 Mark Roberts, CEO of TechServe Alliance, said in a statement:
On a year-over-year basis, IT employment grew at almost twice the rate of the overall job market. Based on our analysis of BLS [US Bureau of Labor Statistics] data as well as initial reports of increased demand for IT professionals through the H-1B visa program, we fully anticipate that IT employment will continue to hit new highs throughout 2012.
According to the TechServe Alliance, the strongest job growth is in "management and technical consulting services," which comprise roughly 37 percent of all US IT jobs. This group of jobs increased by nearly 7 percent from March 2011 to March 2012. In contrast, jobs in the category of "computer systems and design services," which makes up about 54 percent of IT jobs, rose 4.2 percent in the same period. And jobs in "data processing, hosting, and related services" dropped by 1 percent.
The distinctions among these job definitions may not seem crystal clear, but it certainly appears on the face of it that software design, development, and consulting are trumping hands-on data center services. Overall, this is a view that seems to resonate with other interpretations of the BLS data, which indicate that IT jobs will grow by over 20 percent through 2020, thanks to a need for developers in fields like healthcare and mobile IT.
Some sources argue that there's a downside to US IT job growth. In referring to H-1B visas, for instance, Roberts cites the controversial US government program that allows 65,000 skilled foreign workers into the US annually. A recent Wall Street Journal article notes there's been a substantial increase in petitions for the worker visas from US companies, "typically in computer programming, engineering and other high-tech fields where there is sometimes a shortage of qualified Americans."
The visa petitions have also been drawing rejections, and there have been concerns expressed that the program could be hurting US workers.
Despite these concerns, the big picture of US IT hiring seems optimistic. According to a recent survey conducted by InformationWeek, 203 IT leaders collectively present a picture of cautious but increased hiring:
We see ... caution around hiring: 31% say hiring is frozen, up from 26% last year. Only 4% says they're likely to cut, though, same as last year. Fifty-three percent are looking to staff up, either broadly or in specialized skills, compared with 50% last year. One number that changed notably is that last year 19% of companies looked to hire contractors or outsourcers before full-time staff; this year that's down to 11%.
In sum, from the high view, it looks like IT careers in the US are on the go. On the ground, the situation is fluctuating and complicated.
Related posts:
Mary Jander
, Managing Editor, Internet Evolution