Are you satisfied with your enterprise security? According to a report from IBM released today, you may want to avoid getting too complacent.
Results of IBM's latest X-Force 2011 Trend and Risk Report indicate that, though application security vulnerabilities, exploit code, and spam are down from a year earlier, more danger lurks where IT may not be so vigilant. Specifically, the report showed a 19 percent increase in exploits aimed at mobile devices. And phishing emails related to social networks were also up. The report warns too that online criminals appear to be having a field day with the information gleaned by careless social site users.
"In 2011, we've seen surprisingly good progress in the fight against attacks through the IT industryís efforts to improve the quality of software," said Tom Cross, manager of threat intelligence and strategy for IBM X-Force, in a prepared statement. "In response, attackers continue to evolve their techniques to find new avenues into an organization. As long as attackers profit from cyber crime, organizations should remain diligent in prioritizing and addressing their vulnerabilities."
So, the good news is that last year saw a drop in security exploits by more than 30 percent compared to the average of the preceding four years. And when security problems do occur, IT is patching them with software vendor solutions more thoroughly. In 2011, about 36 percent of vulnerabilities went unpatched -- down 16 percentage points from 2010.
What's more, spam levels were cut in half in 2011, thanks in part to better filtering. And the number of SQL injections aimed at manipulating, vandalizing, or destroying Website databases was down by 36 percent last year.
On the downside, though, attackers have been using two to three times more shell commands to directly manipulate Web servers, the report says. And in the second half of 2011, automated password guessing rose significantly.
What also rose were phishing attacks, in which senders create phony emails that appear to be from a user's credit card company or bank.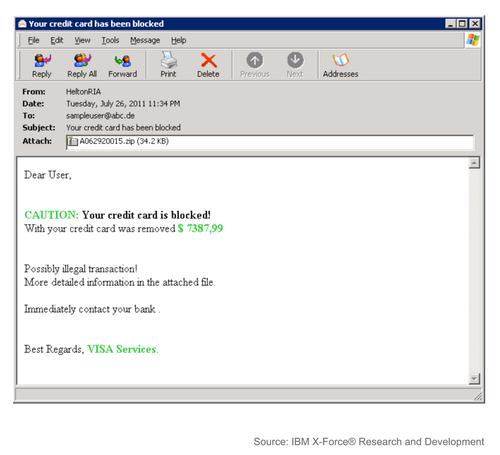 Mobile devices also have become a target for miscreants. In the wake of "Bring Your Own Device" (BYOD), enterprise IT pros are adjured to realize that employees may be bringing unsecured and unpatched smartphones and tablets to work. Many of these machines may be infected with malware specially targeted to their devices.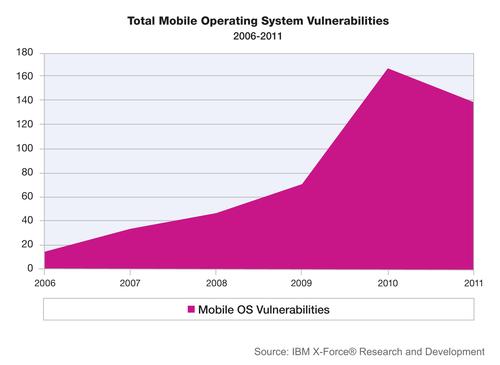 Cloud computing too has its risks. Last year saw some high-profile breaches, IBM observes. In this environment, it's vital for users to obtain service level agreements that cover exactly what the provider is responsible for -- and how quickly an enterprise can expect to have service restored or data retrieved in the event of a breach.
The IBM X-Force report is the latest of an ongoing series that IBM issues based on intelligence gathered by the vendor's managed security services, which operate out of nine Security Operations Centers worldwide. The information was culled from a database of more than 50,000 computer security vulnerabilities, a global Web crawler and spam collectors, and real-time monitoring of 13 billion events daily for 4,000 clients in more than 130 countries.
Related posts:
— Mary Jander
, Managing Editor, Internet Evolution